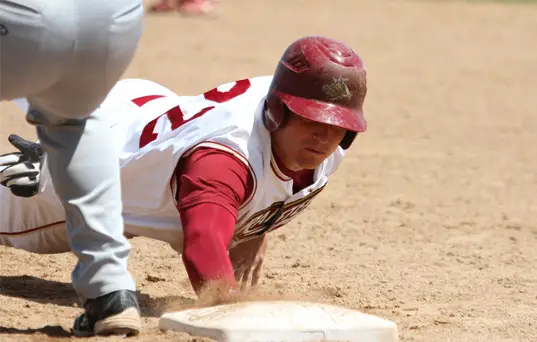 The Wisconsin Rapids Rafters continued to piece together their 2011 roster by announcing the signings of right-handed pitcher Michael Russo (Kean University) and speedy outfielder Curtis Frisbie (University of Nevada-Reno).
Michael Russo was selected in the 49th round of the 2008 MLB draft by the Philadelphia Phillies out of high school, but opted to attend North Carolina State to begin his collegiate career. Russo spent his first two seasons as a member of the NC State Wolfpack, before transferring to Kean University in his home state of New Jersey, where he will begin his first season as a member of the Cougars this spring. In Thursday's release of the New Jersey Athletic Conference (NJAC) pre-season poll, the Cougars were selected by the league's coaches to finish first, with eight first-place votes. Russo has garnered pre-season All-American recognition while also being selected as the top 2011 Division III draft prospect by Baseball America, while former Rafter Ken Gregory has been tabbed as a D3baseball.com 2nd Team Pre-Season All-American.
Last season, as a sophomore at NC State, Russo appeared in 9 games while making 3 starts. He recorded a 2-1 record with a 5.30 ERA while striking out 18 batters in 18 innings pitched. As a freshman, Russo appeared in 6 games, 3 starts, and struck out 13 batters in 14 innings of work.
He is no stranger to summer collegiate baseball, having played last summer with the Jersey Pilots of the Atlantic Collegiate Baseball League. In 8 games, 6 starts, for the Pilots, Russo posted a 4-1 record to go along with a stingy 2.83 ERA. He again showed his knack for the strikeout by fanning 39 batters in only 35 innings pitched.
Russo attended The Hun School during his prep career, where he helped lead his team to a state championship. He went 7-2 with a 1.58 ERA as a senior in 2008, striking out 78, walking just 29 batters and allowing only 38 hits. Russo went 6-1 with a 0.94 ERA, 57 strikeouts and 14 walks in 50 innings as a junior in 2007. His performance earned him an invitation to pitch on the 2007 USA Junior National Team as well as the 2007 Cape Cod Classic. Russo is a native of Hamilton, New Jersey.
Curtis Frisbie will begin his first season at the University of Nevada-Reno in 2011, after completing an outstanding prep career at Central Valley High School in California. A four-time baseball letter winner, Frisbie posted some outstanding numbers throughout his high school career. Showing tremendous skill at the plate, Frisbie posted a .506 batting average, .585 on-base percentage, and .876 slugging percentage during his senior season last spring. He displayed power by mashing 10 doubles, 7 home runs, with 43 RBI while walking 13 times versus only 4 strikeouts. He also showed why he was highly-recruited out of high school as a five tool talent, by going a perfect 19 for 19 in stolen base attempts.
As a junior, Frisbie batted .425 with a .480 on-base percentage and hit 12 doubles and 11 home runs, while leading the entire state of California with 55 RBI. The falcons finished the season with a 32-2 team record during his junior year. He again showed his flash of speed as he was a perfect 13 for 13 in stolen base attempts. Frisbie's tremendous play earned him All-League (2007-2010), All-Section, All-State California (2008-2010), and League MVP honors during his outstanding high school career.
A native of Redding, California, Frisbie is studying Biology at the University of Nevada-Reno.