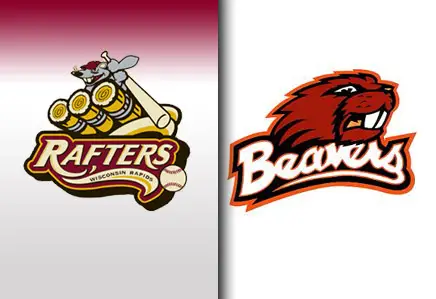 The Rafters announced today that they have added three position players from Oregon State University.  Outfielders Garrett Nash and Sam Montgomery and infielder Luke Acosta will call Wisconsin Rapids home this summer.  
Garrett Nash has been selected by Major League Baseball clubs twice.  He was chosen in the 4th Round of the 2007 MLB Draft by the Texas Rangers and again in 2010, in the 39th Round by the Arizona Diamondbacks.  After making a life-altering decision two years ago that took him away from college and the game of baseball, Nash has returned to Oregon State this spring and has appeared in 29 games, batting .211 with 4 doubles and 9 RBI.  He is 7-for-9 in stolen base attempts so far this spring and carries a .348 on-base percentage.  After his two-year absence, he is starting to get back in his baseball groove.
Nash was a starter for Oregon State much of his freshman season in 2008, and on the way to becoming a potential first round Major League draft pick following his junior season.  He was already on the Major League Baseball radar after being drafted in the 4th Round by the Texas Rangers out of Jordan High in 2007.  However, Nash's outlook on life changed during his freshman year and he decided to take a two-year break from school and baseball to go on a mission trip during the 2009 and 2010 school years.
As a freshman in 2008, Nash appeared in 34 games, starting 27, in his first collegiate season for the Beavers.  The switch-hitter batted .277 with eight doubles, one triple, one home run, while tallying 15 RBI.  He showed why Major League scouts were intrigued by his speed as he stole 36 bases as a freshman.  He finished his first year with six multiple-hit and three multiple-RBI efforts.
Nash lettered four years and earned First-Team All-State and First-Team All-Region in three seasons while attending Jordan High School in Draper, Utah.  As a senior in 2007, he hit .434 with 6 home runs and 27 RBI, while also stealing 32 bases in only 27 games.  He was named Rawlings 2nd Team All-American and West-All Region 1st Team his senior year.  As a junior, Nash was named team MVP after batting .533, with 7 home runs, 7 triples, 21 doubles, 27 RBI, 39 stolen bases and 47 runs scored.
That season, he was ranked No. 15 among the Area Code Games Top 20 Prospects by Baseball America.  He was also named as Fastest Baserunner on Baseball America's "Best Tools" list for the Area Code Games.  As a sophomore, he was named Team MVP after batting .507 with 6 home runs, 11 triples, 19 doubles, 27 RBI, 37 stolen bases and 48 runs scored.  As a freshman, he was named MVP after batting .429 with 2 home runs, 3 triples, 6 doubles, 24 RBI, 21 stolen bases and 29 runs scored.
 
Luke Acosta is appearing in his first action for the Beavers this spring after spending his freshman and sophomore seasons at Hutchinson Community College.  This spring, Acosta has appeared in 16 games while batting .313 with 4 doubles, 8 RBI and carries a .421 on-base percentage.
While at Hutchinson Community College, Acosta earned both first and second-team all-conference honors in both his freshman and sophomore seasons.  As a sophomore, he appeared in 48 games, batting .393 with 9 doubles, one triple, two home runs, and 27 RBI.  He tallied 33 stolen bases in 39 attempts and also had an on-base percentage of .491.  In 2010, he helped lead his team to the JUCO World Series in 2010.
Acosta lettered three seasons at Lafayette High School in Louisiana, where he served as team captain and was an Academic All-American during his tenure there.  He is majoring in Business at Oregon State.
Sam Montgomery attended Sierra Junior College in Rocklin, California his freshman and sophomore seasons before transferring to Oregon State.  As a sophomore, he started 36 games and batted .368 with 15 doubles, 5 home runs, and 23 RBI for the season, earning 1st Team All-Conference honors as an outfielder.  He was also named an All-Northern California-All American in 2010.  As a freshman, he batted .318 while starting 27 games for Sierra.
During the summers following his freshman and sophomore campaigns, Montgomery played for the Folsom Pioneers of the West Coast League-Tri State, an independent college wood bat team.  In 2010, he started 44 games and batted .296, with 13 doubles, 3 triples, and 7 home runs.  In 2009, he appeared in 41 games, batting .318 with 12 doubles, 2 triples, and 2 home runs.
Montgomery was a three-year letter winner at Bellarmine College Preparatory School in San Jose, California.  He is a native of Fremont, California.