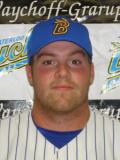 WATERLOO, Iowa (June 14, 2012) – Waterloo Bucks third baseman Sean Borman (St. Cloud State) was named the Northwoods League Player of the Night for Thursday, June 14.
Borman was 3-for-5 with two RBI and three runs scored for the Bucks. After the Beetles put up two runs in the top of the fourth inning, Borman responded for Waterloo with a solo home run in the bottom of the inning to increase the Waterloo lead to 9-2.
The Bucks and Beetles will play again on Friday with the first pitch scheduled for 6:35 p.m.