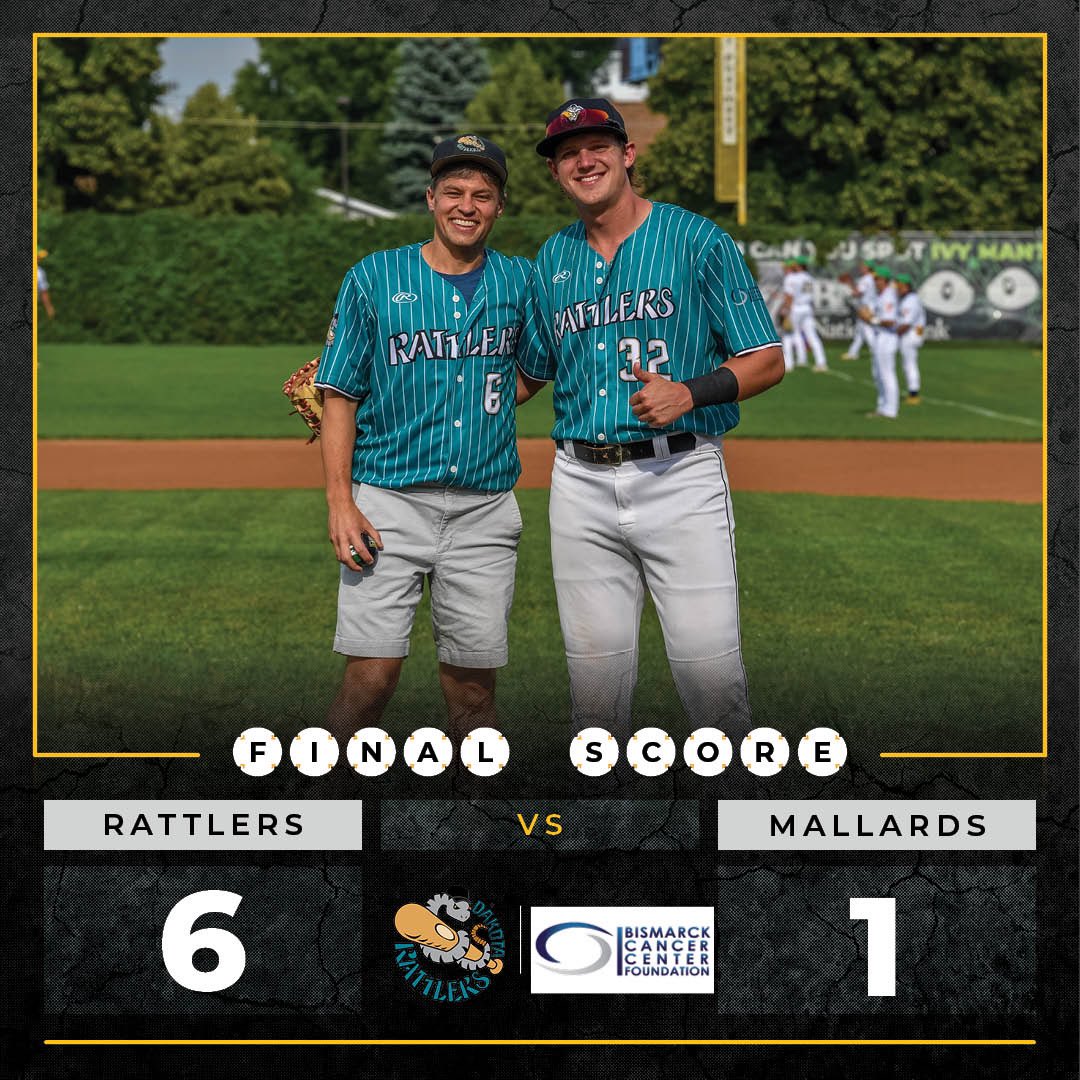 After two much-needed days off, the Larks returned to action at Bismarck Municipal Ballpark to face off for the third game of a four-game set against the Minot Hot Tots. The Larks dominated in the first two games of the series, and although it wasn't an offensive shootout, game three ended the same way. The Larks defeated the Tots by a final of 6-1.
Tonight was also the first of two specialty nights between these two teams, as the Larks played as the Dakota Rattlers, while the Hot Tots played as the Minot Mallards. Both teams paid homage to their professional roots in the Prairie League from 1995-97.
Through the first three innings of play, we had a pitcher's duel on hand. Bismarck starter Jonny Lowe (Tyler Junior College) and Minot starter Rawley Hector (Louisiana Tech) was dealing. It was only 1-0 Larks after three innings.
However, Bismarck would break it open during the bottom of the fourth. Jack Herring (Rollins) hit a two-run homer to left center, and then Nick Johnstone (South Suburban) and Nick Oakley (UC Santa Barbara) followed with run-scoring hits as well, extending the Larks lead to 5-0. Herring's opposite-field home run would go down as the Fetzer Electric Play of the Game. 
The Larks would score one more time in the sixth thanks to a sacrifice fly from Benjamin Rosengard (Rice), and although Minot's Brannon Mondragon (Southeastern) lined a ball over the left field wall in the seventh, the Larks would cruise to a 6-1 victory. 
On the mound, Jonny Lowe got the win, going six scoreless innings, giving up no runs on four hits, and striking out eight. He moved to 1-1 and also threw the Metro Area Fastest Pitch of the Game in the fourth inning at 92 mph. Brad Helton (Metro State Denver) and Brooks Byers (New Orleans) both looked impressive out of the pen as well.
Minot's starter, Rawley Hector, moved to 1-2 after picking up the loss.
The Larks will begin their nine-game road trip tomorrow, as they close out the first four-game series of the year against Minot and go for the sweep. First pitch is at 6:35 p.m. CT at Corbett Field in Minot.