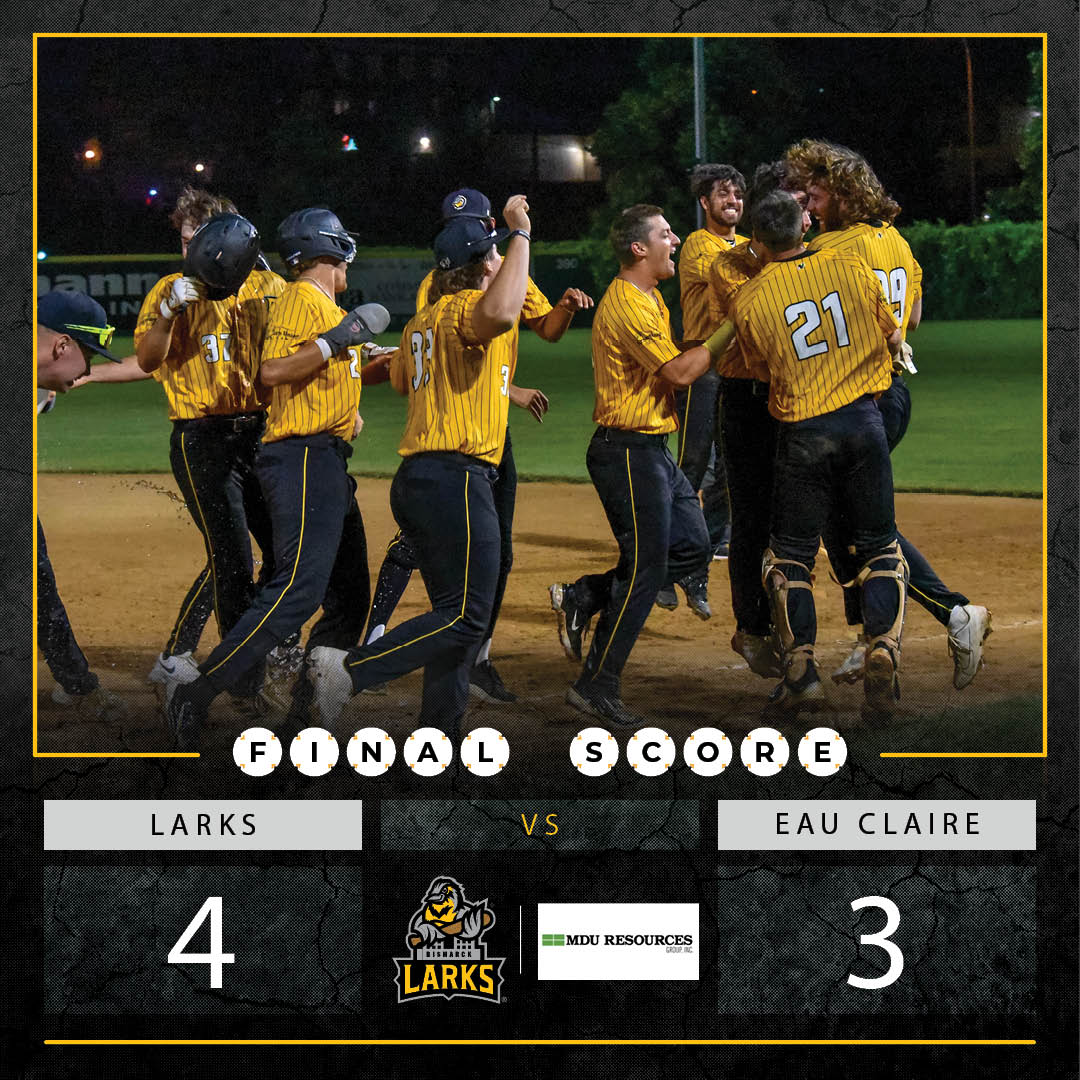 The rain may have tried to halt tonight's ballgame from Bismarck Municipal Ballpark, but the Larks were still able to pick up a much-needed win. After a 50-minute delay prevented the start of the ballgame, Bismarck was off and going, opening up its second and final six-game homestand of the year. The Larks faced the Eau Claire Express for the first time in 2023, and despite going 2-6 last year against the trains, Bismarck pulled out a walk-off win in extras. 4-3 was the final.
The scoring got started in the first for the Larks, as Jackson Beaman (Mizzou) scored Benjamin Rosengard (Rice) to make it 1-0. However, Eau Claire would respond right away, with Dallan Quigley (North Dakota State) reaching via an error which would bring home Ryan Nagelbach (University of Illinois at Chicago) to tie the contest at ones.
Bismarck grabbed the lead back in the bottom of the third, with a little deja vu, as Beaman grounded out to score Rosengard again, making it 2-1. The Larks would hold off the Express until the sixth, where D.J. Massey (Central Arizona College) knocked in Camden Ross (Western Kentucky) to knot it up at two a piece. 
In the ninth, with the game still tied, Dillon Goetz (Skyline College) found himself in a jam with two runners on and nobody out. But Goetz buckled down, striking out the next batter and then forcing an inning-ending double play. We would head to extras.
In the tenth, with runners starting on second, both teams would hit sacrifice flies to make it 3-3. Grant Richars (Southwestern Illinois College) came out of the bullpen in the eleventh, slamming the Express down and going one-two-three. That set the stage for the bottom half of the inning.
C.J. Cepicky (University of Illinois at Springfield) stepped up with two runners in scoring position, and slapped a walk-off base hit the other way to win it for the Larks. That walk-off winner goes down as the Fetzer Electric Play of the Game. Grant Richars got the win, while Eau Claire's Dillon Schueler (Sauk Valley CC) picked up the loss.
The Larks got a quality start from right-hander Jonny Lowe (Tyler JC), who went 5.2 innings, giving up just one earned run and striking out five. His 92 mph fastball in the third inning goes down as the Metro Area Fastest Pitch of the Game.
The Larks and Express close out the two-game set tomorrow night, with Bismarck going for the sweep. It's firework night at the park, as first pitch is at 7:05 p.m. CT. Tomorrow is also WWE night, presented by Bravera. Come dressed as your favorite WWE superstars! Purchase the special ticket package that includes a meet and greet with guest host and WWE ring announcer, Greg Hutson!