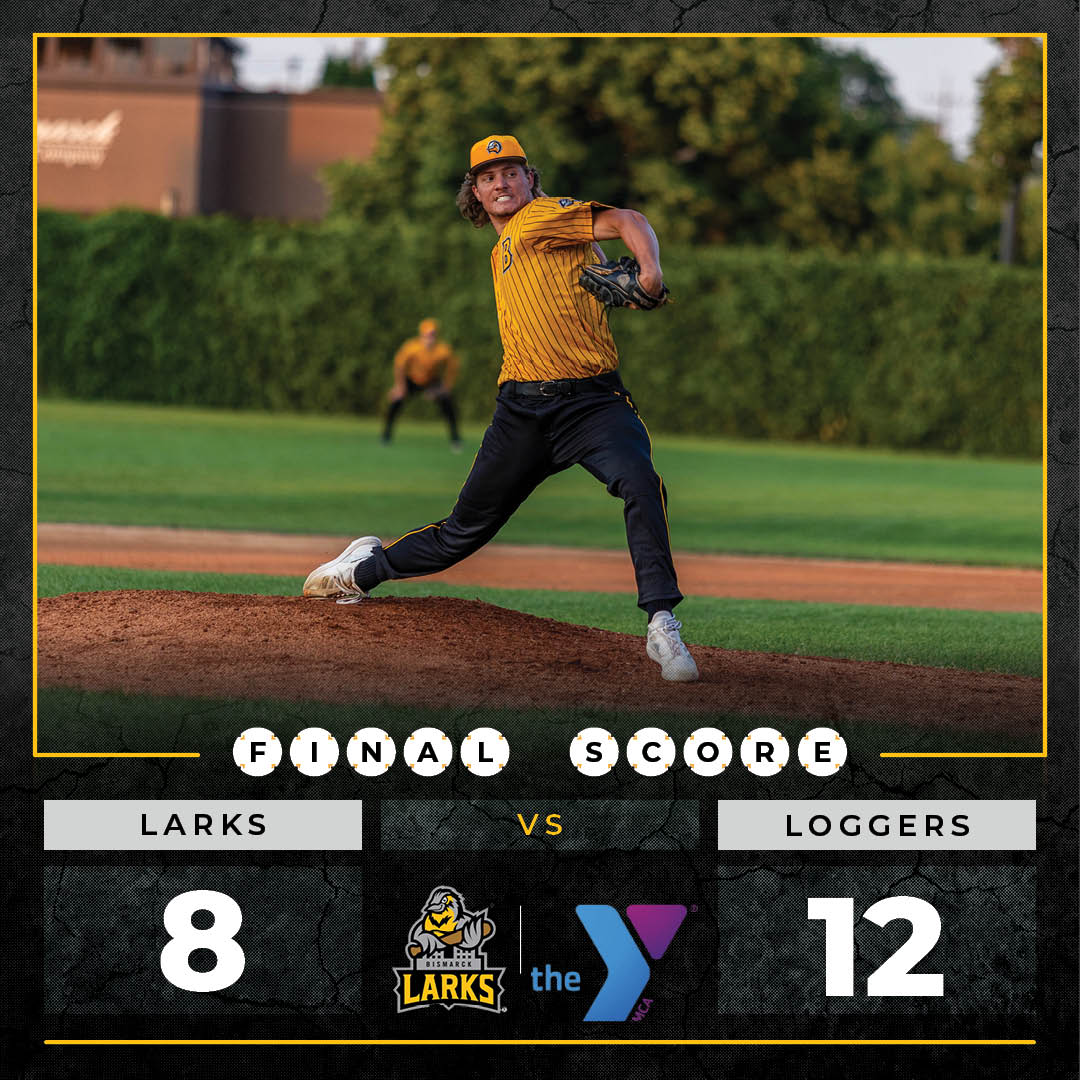 After coming off of a series sweep against the Minot Hot Tots, the Bismarck Larks began a two-game series against the La Crosse Loggers. After splitting the first series with La Crosse late in the first half, Bismarck fell in the first match-up of this set, falling 12-8 in a back-and-fourth offensive slugfest. 
The scoring started in the first, as the Loggers ambushed Bismarck right away. After the leadoff man reached via an error, with one out, Loggers right fielder Ethan Frey (LSU) lined a two-run homer over the left field wall to make it 2-0. Gabe D'Arcy (San Diego) followed up right after with a double, and then Aidan Sweatt (Liberty) drove him home with a single. The Loggers led 3-0 after a half-inning of play.
However, the Larks responded in a heartbeat. After three consecutive singles to start things off, Jack Herring (Rollins) cleaned up with a two-RBI knock of his own to get Bismarck on the board. Then, Luc Stuka (Cal State Northridge) hit in two with a single to give the Larks a 4-3 lead. Two batters later, in his Larks debut, Ryker Billingsley (UC Riverside) hit an RBI double to make it 5-3 after one complete inning.
Both teams would then score in the second, and in the bottom half, Nick Oakley (UC Santa Barbara) launched his second homer of the year, hitting it 107 mph off the bat and sending it 425 feet over the center field wall. Oakley's long ball would go down as the Fetzer Electric Play of the Game. 
In the fourth, La Crosse would send nine batters to the plate and score four to take the lead, but the Larks responded again in the bottom half, putting up two to even the game at 8-8. 
But the runs in the fourth would be the last bit of offense the Larks would get, as La Crosse added one in the seventh and three in the ninth, and Aiden Moffett (LSU) shut the door out of relief to give La Crosse a 12-8 series-opening victory.
On the bump, Ty Howry (Cisco College) got the start for Bismarck and the no-decision through 3.2 innings. He also threw the Metro Area Fastest Pitch of the Game at 91 mph. Stephen Klenske (College of Southern Nevada) made his return to Bismarck but got the loss out of relief after going.
For the Loggers, Michael DeBattista (Dodge City Community College), got the win out of relief, going six strong and only allowing three runs.
The Larks will host the Loggers for the series finale tomorrow night at 7:05 p.m. CT. It's Fireworks Friday, presented by Fetzer Electric. The atmosphere is electric at Dakota Community Bank & Trust Field, with post-game fireworks brought to you by Fetzer Electric.