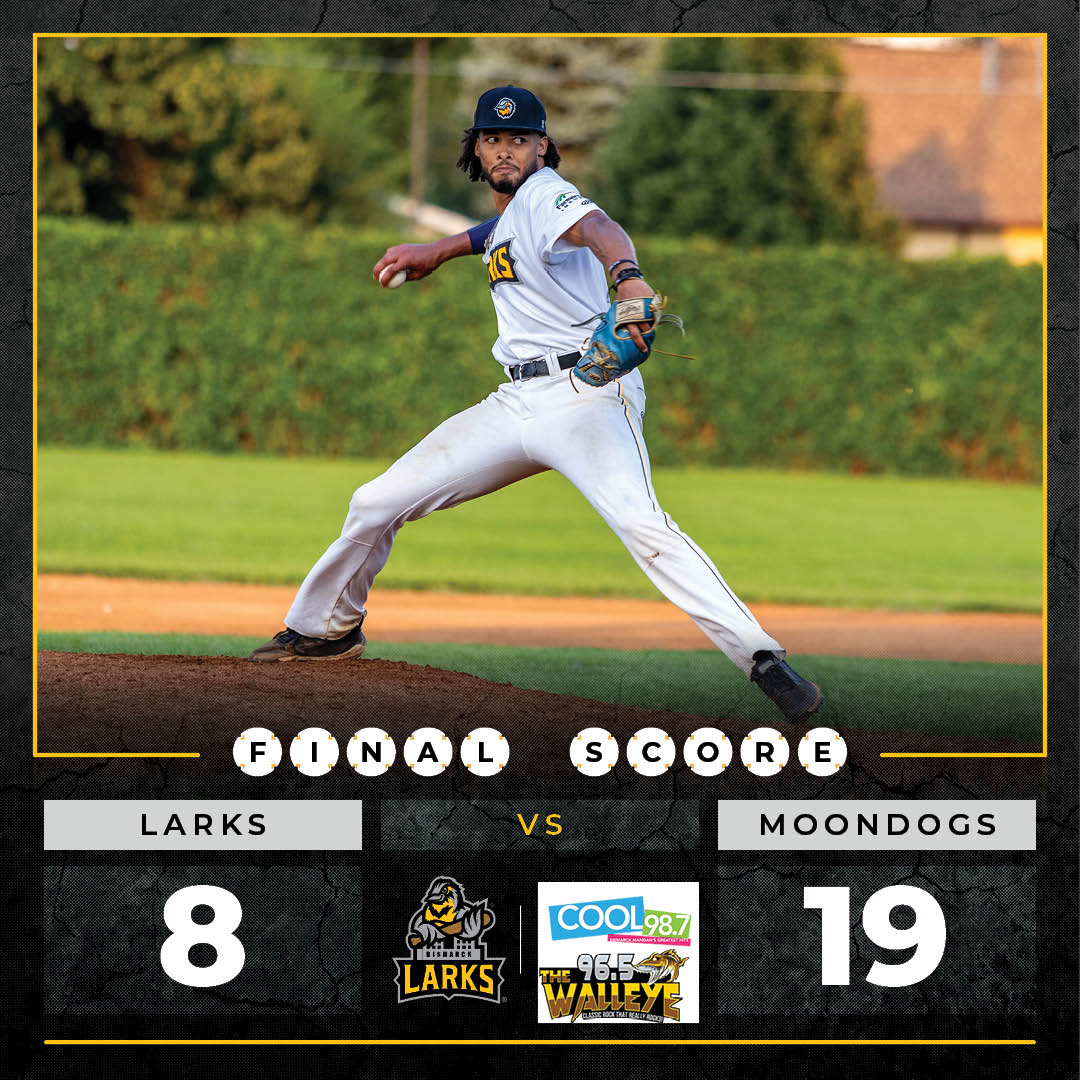 The Larks closed out a six-game homestand against the Mankato MoonDogs on Tuesday night. After Bismarck took game one of the series, Mankato came out looking for revenge, and they got it, winning by 11.
The MoonDogs struck first in the first inning and then put up two in the third to take a 3-0. In the bottom of the third, Garret Hill (North Dakota State) would respond for Bismarck, hitting a two-run home run to get the Larks back within a run. Hill's home run would go down as the Fetzer Electric Play of the Game.
In the fourth, Bismarck added on three more, with Bradlee Preap (UC San Diego) hitting a two-RBI single to give the Larks a 5-3 lead.
But Mankato would have no more of it for Bismarck. The MoonDogs scored three in the fifth, five in the sixth, and four in the seventh to go out to a monster lead. The MoonDogs would finish with 19 runs on 19 hits, highlighted by performances from Brendan Hord (Evansville), who was 4-6 with two homers and four RBI, and Eli Anderson (North Iowa Area CC), who was 3-6 with three driven in. The MoonDogs finished off the Larks with another four in the ninth, and the Larks would fall in the series finale. The final score 19-8.
Murphy Bostick (Grayson) picked up his third loss of the season for the Larks, while Aaron Smith (Quincy) got the win out of relief. Andrew Hansen (Forts Hayes State) topped out at 89 mph for the Metro Area Fastest Pitch of the Game. 
The Larks will have two days off before returning to Bismarck Municipal Ballpark for one final game this season against the Hot Tots. First pitch is at 6:35 p.m. CT. It is also Jurassic (Ball)Park Night and Dig for Cash Night
Dakota Community Bank & Trust Field becomes Jurassic (Ball)park for the final game of 2023. Come to the game and get a limited-edition Jurassic Park T-Shirt featuring a Meadowlark as the T-Rex in the famous logo. PLUS, don't miss out on fans battling head-to-head for the chance to "dig" for $1,111 cash!