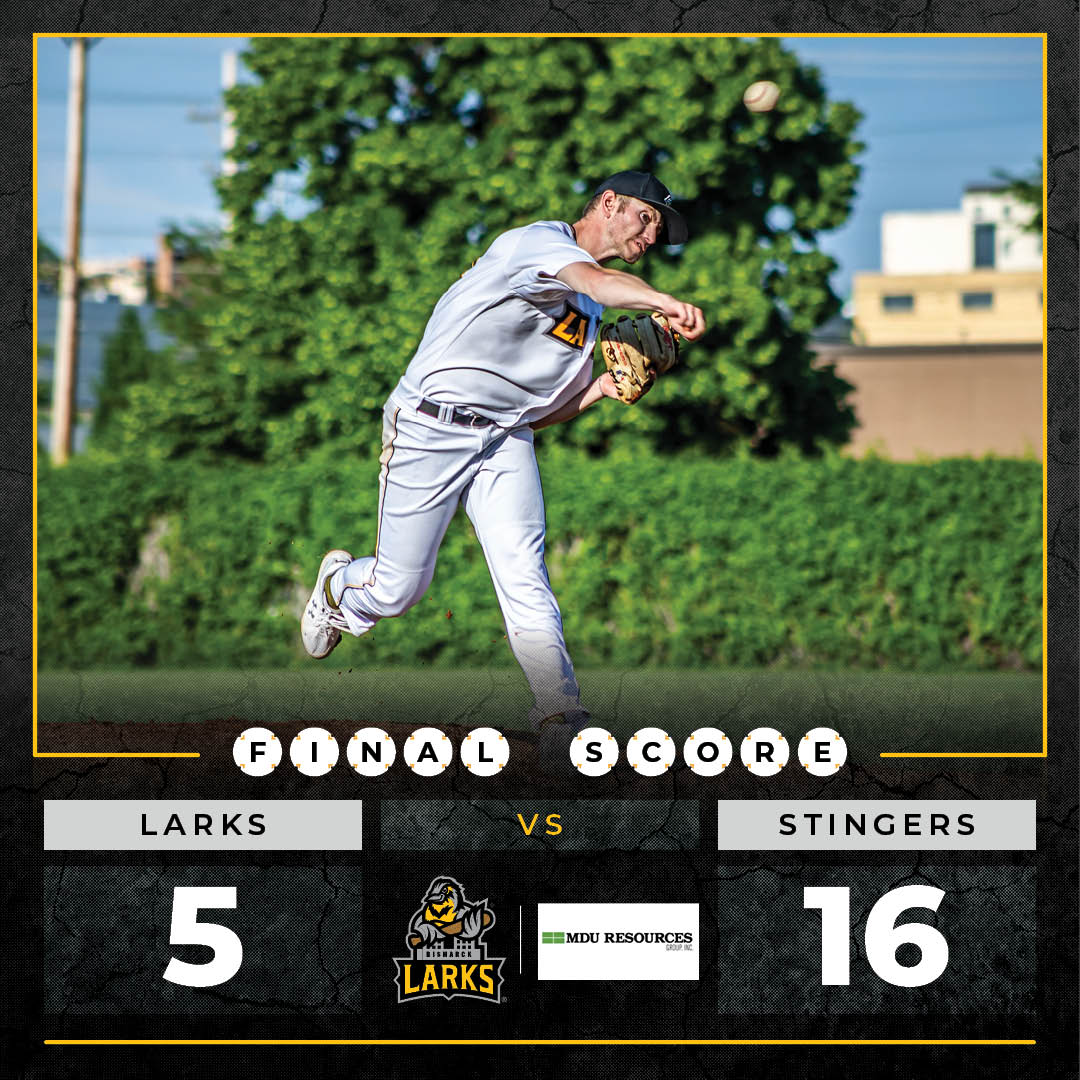 Tonight was a rough one, to say the least, for the Bismarck Larks (3-3), as they dropped their third straight game and were swept by the Willmar Stingers (3-1). Bismarck is now 2-8 in their last ten match-ups with the bees, dropping the series finale 16-5. The Stingers used 21 hits and scored across six frames.
Willmar struck fast in the first, thanks to an RBI base hit from former Lark Jake Hjelle (Minnesota Crookston), followed by a two-run triple from centerfielder Kristopher Hokenson (Minnesota). Going into the bottom of the first, the Larks responded, Dylan Perry (Monmouth) doubled to put two runners in scoring position, and then Luke Boykin (Georgia) cashed in with his first hit as a Lark, a two-RBI base hit to make it a one-run game. Boykin's hit is also the Fetzer Electric Play of the Game.
Despite Bismarck's response, the Stingers' leadoff man Kevin Fitzer (California State Northridge), hit a two-run homer to get those runs right back for Willmar, and the Stingers wouldn't look back from there. They scored two in the second and third, three in the fifth, and five in the sixth, which was capped off with Kevin Fiter's second bomb of the night. The Stingers' first basemen finished 4-7 with three extra-base hits, six RBIs, and four runs scored.
Clay Beaumont (Northeast CC) got the start and the win on the mound for Willmar, going three complete innings with four strikeouts and allowing four runs. He moves to 1-0. 
Carter Rost picked up his first-ever loss in a Larks uniform, giving up six earned runs and 11 hits in three innings of his own. Rost falls to 0-1 this year.
In relief for Bismarck, Ryan Taylor (Dallas College Richland) worked three innings and struck out six. He also threw the Metro Area Fastest Pitch of the Game in the fifth at 90 mph.
The Larks hit the road for the first time in 2023 tomorrow, opening up a two-game series with the Duluth Huskies. It will be the third of eight matchups and the second of four series the Larks will play against the reigning Great Plains Division champions. The Larks swept the Huskies during the opening series of the summer. First pitch is at 3:05 p.m. CT.