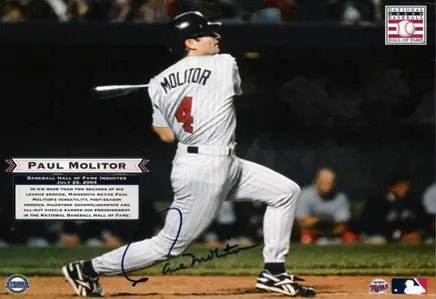 WILLMAR, MN- The Willmar Stingers of the Northwoods League announced today that former Minnesota Twin and Major League Hall-of-Famer Paul Molitor will be its Inaugural Season Opening Night Guest. Opening Night will be presented by Christianson and Associates, PLLP, a certified public accountant in Willmar. Courtesy of the Stingers and Christianson and Associates, all fans will receive an "I Was There" certificate and be treated to a post-game fireworks extravaganza.
Molitor will throw out the ceremonial first pitch as the Stingers take on the St. Cloud River Bats on Thursday, June 3 at 7:05 p.m. at Bill Taunton Stadium. Single game tickets for this event and all 34-home games will go on-sale on Saturday, April 24 from 10 a.m. to 2 p.m. at the Kandi Mall in Willmar. Fans can purchase single game tickets, merchandise and pick up the 2010 Inaugural Season promotional schedule at the cinema entrance in the mall.
"We are very excited to have a Hall of Famer like Paul Molitor throw out the first pitch," Co-owner Marc Jerzak said. "For Ryan and I, we have been fortunate to host several former Major Leaguers in the past, and having Paul Molitor throw out this year's ceremonial first, is on the top of the list."
Molitor played 21 years of professional baseball with the Milwaukee Brewers, Toronto Blue Jays, and finally with the Minnesota Twins. Throughout his career Molitor compiled 3,319 hits, good enough to earn him 9th all-time. He was selected to 7 All-Star games and was World Series MVP in 1993. Molitor was inducted into the Baseball Hall of Fame in 2004, his first year of eligibility.
The Stinger also unveiled their team uniforms Tuesday night at The Oaks at Eagle Creek Golf Course in Willmar. The home and road uniforms will have Stingers across the chest with a team logo on the sleeve. The team will wear a black mesh uniform top on the road and a white top at home. On one special night during the season, Stingers players and coaches will wear a retro uniform which will be auctioned off later in the season.