Asche Powers North to All-Star Victory
July 21, 2010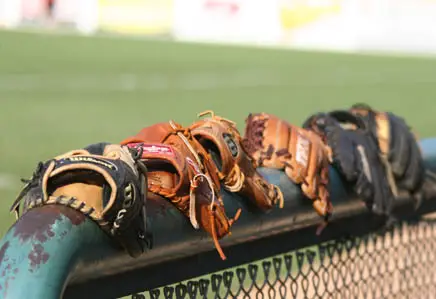 The fans in attendance of the 2010 Northwoods All-Star Game at Carson Park in Eau Claire, Wisconsin were treated to a fantastic game. The North Division All-Stars took the game 7-5 over the South All-Stars in front of a crowd just shy of 4,000 fans. The North's Cody Asche (Nebraska) of the Duluth Huskies was the 'Star of Stars' in the game for going 2-for-4 with a two-run homer and two RBI and helping the North to victory.
The game began with South starting pitcher Tony Mueller (Winona State) of the La Crosse Loggers allowing two unearned runs to put the South behind 2-0. However, Mueller struck out four batters in the inning due to a dropped third strike. The South roared back with two runs in the bottom of the second to tie the game at 2-2.
Green Bay's Brad Zapenas led the South squad, knocking in a pair of runs as part of a 2-for-4 night. Eau Claire's Steve McGuiggan led the host Express, reaching base twice on a hit by pitch while scoring the game-tying run in sixth inning to make it a 5-5 game.
The North came back with a pair of runs in the seventh to go up 7-5. The South did manage to bring the tying run to the plate in the bottom of the ninth, but were unable to come up with a tying hit.
Five All-Stars had multi-hit games on the night. The South's Kyle Gaedele was 3-for-4 on the night while Mallard teammate Harold Riggins had a two hit performance. Brad Zapenas of the Bullfrogs also had two hits. The North's Jordan Steranka (Mankato) and Matt Dittman (Rochester) both had two hits to go along with Cody Asche's performance.
22 pitchers threw in the game with Arik Sikula (Marshall) earning the win while fellow Rochester Honker teammate and Marshall teammate Ian Kadish earned the save throwing a scoreless ninth inning for the North. Joe Battistelli (Eastern Michigan) took the loss for the South allowing two runs on two hits.
Fans in attendance were also treated to a Home Run Derby before the game which was won by Duluth Huskie Mark Threlkeld (Louisiana Tech). Threlkeld defeated Madison Mallard Kyle Gaedele (Valparaiso) in the final round with a towering shot to left field. Threlkeld hit nine homeruns in the three round format. Fans also saw a post-game fireworks show sponsored by the Leader Telegram and Bothun Automotive.
All Northwoods League teams are rewarded with a day off today, but resume play Thursday, July 22nd. Visit a NWL park near you or follow your favorite teams and players at www.nwltickets.com.