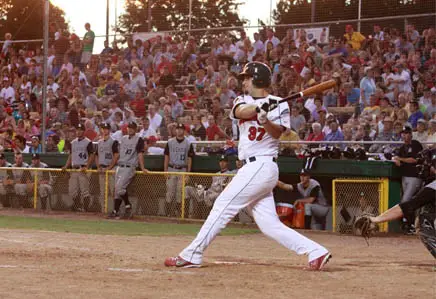 Thunder Bay 10, Duluth 5
Duluth 5, Thunder Bay 2
Thunder Bay took game one of the double header 10-5 as they had 15 hits while only allowing five Huskies hits. The Border Cats combined to throw a five hitter while using three pitchers. Will Krasne (Rollings-FL) earned the win after throwing 2.1 innings in relief while only allowing two hits. Ken Battiston (Eastern Michigan) knocked in three runs in his three-hit performance while Ryan Court (Illinois State) also had three RBI. JoJo Sharrar (Utah) had two hits and two RBI in the loss for the Huskies.
The Huskies took game two 5-2 thanks to an eleven hit performance on offense and some great pitching. The Huskie pitching staff only allowed three hits while striking out seven Border Cats. Jeff Reynolds (Harvard) had a huge night at the plate as he was 3-for-4 with three RBI. Zeke DeVoss (Miami) and Mark Threlkeld (Louisiana Tech) each had two hits as well.
Willmar 2, Brainerd 1
Brainerd 4, Willmar 2
Willmar won game on of the double dip as they beat the Lunkers 2-1 at Bill Taunton Stadium in Willmar. The Stingers bottom of the order drove in two runs while the pitching staff only allowed four Brainerd hits. Anthony Bemboom (Creighton) and Bryan Wilson (Central Arkansas) each drove in a run for the Stingers. Jayson Huett (NW Missouri State) earned his 6th win of the season as he threw 3.0 scoreless innings in relief.
The Lunkers bounced back in game two as they beat the Stingers 4-2 without registering a hit. The Lunkers were no-hit, but were walked five times. All but one Lunker batter who was walked eventually scored. Charlie Henderson (Regis) earned his second win of the season while Brett Baumgartner (North Dakota) earned the save. Jordan Smith (St. Cloud State) tripled in the loss for Willmar.
Rochester 12, Alexandria 7
Rochester 14, Alexandria 5
The Honkers scored 12 runs on 11 hits Wednesday night against the Alexandria Beetles at Knute Nelson Memorial Park. Rochester had four players with multi-hit games and were led by Jimmy Waters (Kansas) who was 3-for-4 with three RBI and two runs scored. The Honkers pitching staff was effective as they only allowed three hits, but they walked 10 batters to allow the Beetles to keep the game close. All-Star short-stop Marcus Semien (California Berkeley) was 2-for-2 with two RBI and two free passes.
The Honkers took game two of the double header by a score of 14-5. The Honkers Jimmy Waters was at it again as he had two hits and four RBI. Chris Elder (Oral Roberts) homered and drove in four runs while Ryan Hambright (Oregon) had a three hit performance.
Wisconsin 3, Waterloo 2
The Wisconsin Woodchucks needed extra innings Wednesday night against Waterloo, but won the game 3-2 at Athletic Park. The Woodchucks and Bucks were all tied at 2-2 going into the tenth inning, but Wisconsin's Brian Sharp (California Baptist) scored on an error to win the game. Sharp led the Woodchucks with two hits and two runs scored while Kevin Pillar (Cal State Dominguez Hills) drove in the 'Chucks other run. The Bucks Jeremy Lucas (Indiana State) had two hits in the loss.
La Crosse 4, Madison 2
The Loggers won a much needed game against the Madison Mallards as they are now only 0.5 games back of Wisconsin while Madison is now a full game back. The Loggers used a strong pitching performance from Stayton Thomas and Madison Boer (Oregon). Thomas earned the win while throwing a four hitter threw 6.0 innings while Boer shutdown the Mallards through 3.0 innings to earn the save. La Crosse got to starting pitcher Matt Morgan (Purdue) as they pounded out eight hits in 4.2 innings to give him his third loss of the season. La Crosse left fielder Seth Mejias-Brean (Arizona) drove in two runs on two hits in the win.
Eau Claire 10, Wisconsin Rapids 3
The Express bats exploded in the fifth inning as they scored eight runs against Wisconsin Rapids. Eau Claire took the game 10-3 in front of 1,515 NWL fans with Felix Cardenas getting the win. Cardenas threw 6.0 innings while only allowing one run on three hits and striking out nine Rafter hitters. Michael Blatchford blasted his first homerun of the season as he hit a grand slam in the fifth. Evan Laude drove in three runs for the Rafters in the loss.
Mankato 5, St. Cloud 1
Mankato jumped out to a quick 2-0 lead after two innings and never looked back as Blake Schwartz (Minnesota State Mankato) threw a gem. Schwartz threw 7.1 innings of one run baseball to earn his 5th win of the season. Trever Adams, Sam Eberle (Jacksonville State) and Julian Duran all drove in runs in the victory. All-Star short-stop Steve Nyisztor (Rutgers) continued his hot hitting as he went 2-for-3 with a run scored in the loss.
Green Bay 8, Battle Creek 2
The Bullfrogs scored five runs quickly and took a 5-1 lead into the third inning and that is all the Green Bay pitching staff would need. The Bullfrogs combined to strikeout nine Bombers and only allow two earned runs. The Green Bay designated hitter, Brad Schreiber (Purdue), drove in four runs on two homeruns. Josh Lyon had three hits in the loss for Battle Creek.