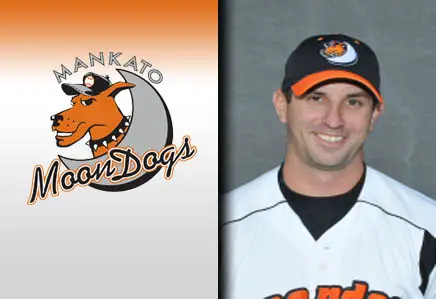 The Mankato MoonDogs Baseball Club, a member of the Northwoods League, is proud to announce Mike Orchard will return as field manager for the 2011 season. The 2011 season will mark his fifth year in the Northwoods League and third at the helm for the MoonDogs.
The 31-year-old Bettendorf, Iowa native is no stranger to summer college baseball. His summers have included stops in the Northwoods League in Thunder Bay and La Crosse, the Arizona Summer Collegiate League, and a stint at Hyannis in the Cape Cod League.
"We are looking forward to having Mike back for the 2011 season," MoonDogs General Manager Kyle Mrozek said. "His past experience and ability to create a good culture both on and off the field for the players is what will help the MoonDogs get back on the winning track in 2011."
Over the last two seasons as MoonDogs Manager Orchard has put together a 68 – 70 regular season record. He led the MoonDogs to their second consecutive first half championship and play off berth in 2009.
In 2009 under Orchard's coaching the Dogs tied for eighth all-time in strikeouts with 519 and tied for ninth in shutouts with eight. Also, the MoonDogs pitching staff allowed a franchise-low 228 runs and 176 earned runs. The Dogs finished second in the league in strikeouts, but their mark of 519 on the year was also a franchise best.
The 2010 season was plagued with roster changes due to MLB drafts and injuries. The team saw seven current MoonDogs sign contracts with major league teams including second year MoonDog players Jacob Petricka (Indiana State) and Alex Burgos (State College of Florida). Petricka went to the White Sox in the 2nd round of the 2010 draft and Burgos went to the Tigers in the 5th round.
"I am excited to be back in Mankato for the 2011 season," said Mike Orchard. "We are working to make this years roster more stable and give us more time to click as a team over an entire 70 game season with the ultimate goal of returning to the playoffs and competing for a Northwood League Championship."