Former Duluth Manager Collins to Manage NY Mets
December 8, 2010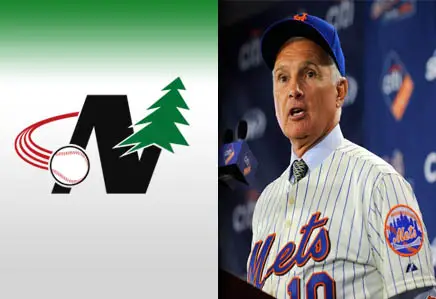 Terry Collins is the first Northwoods League manager to later become a manager at the Major League level. Collins, a former Duluth Huskies' field manager, was named the New York Mets' manager on November 23rd. The Michigan native is familiar with the Met organization as he spent the 2010 season as the Minor League field coordinator.
The 61-year old joined the Duluth Huskies midway through the 2009 season after coaching the Chinese national team in the 2009 World Baseball Classic. During his tenure with the Huskies he posted a 5-9 record, but his impact far exceeded the win/loss record. Collins passed on his experiences within professional baseball while also improving the Huskies' players.
Before coming to Duluth, Collins was known for his fiery attitude and propensity to win at all costs. However, Duluth player's felt that he was truly a 'teacher of the game'. He now approaches the game in a much more laid back manner, but still has the drive to win.
Collins' playing and coaching background over the past 30 plus years have led him through various cities. The former Pittsburgh Pirates' draft pick had a 10-year playing career in the Pirates and Dodgers organizations. Although he never made it into the Major Leagues, his coaching career found him bouncing throughout Minor and Major League baseball. The former Eastern Michigan star has a 444-434 career managerial record with a .506 winning percentage. Collins had managing stints in:
– Albuquerque Dukes – Triple-A – Dodgers
– Buffalo Bisons – Triple-A – Pirates
– Houston Astros – MLB
– Anaheim Angels – MLB
– Orix Buffaloes – Pacific League – Japan
– China national team – World Baseball Classic
– Duluth Huskies – Northwoods League
– New York Mets – MLB
The story of how Collins' stint in the Northwoods League impacted his managerial career was recently featured in the Wall Street Journal. Collins is now one of two former NWL managers coaching in the big leagues. He joins former Wisconsin Woodchucks manager Steve Foster who enters his fifth season as a Major League bullpen coach, his second year with the Kansas City Royals.
The Northwoods League is a summer baseball league composed of 16 teams with top college players from across the United States. With a family-oriented atmosphere, the Northwoods League has more teams, plays more games, and draws more fans than any other Summer Collegiate Baseball League in North America. Franchises are located in Minnesota, Wisconsin, Iowa, Michigan and Canada.