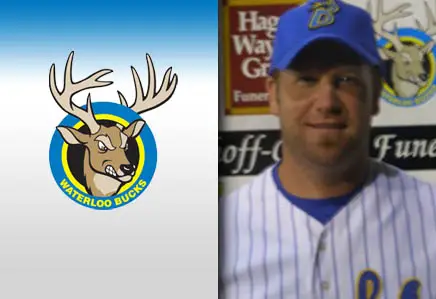 The Waterloo Bucks, a member of the Northwoods League, have announced the rehiring of Travis Kiewiet to be the team's Bench Coach for the 2011 season. Kiewiet (KEY-wit) has held the same position for Waterloo since 2008. Kiewiet joins Manager Jason Nell as part of the coaching staff for the Bucks' 17th season of play in 2011.
"I am very excited to be coming back with the Bucks for the 2011 season," said Kiewiet. "I would like to thank the team owners John and Steve Marso, General Manager Dan Corbin, and Field Manager Jason Nell for the opportunity to come back. I believe we made good, positive strides last summer and hope to build on our success for this summer. I am looking forward to working on bringing another Northwoods championship to the Cedar Valley."

Currently, Kiewiet is a physical education teacher at Hudson Middle School and High School. Prior to joining the Bucks, Kiewiet was the head baseball coach at Dike-New Hartford High School in 2007 and associate head baseball coach at Cedar Falls High School in 2006. Kiewiet also served as the C.F.H.S. assistant varsity coach during the 2004 and 2005 seasons. Before his work with the Tigers and Wolverines, Kiewiet was the head coach at Hudson High School in 2002 and 2003 where he directed his '02 team to the class 2A state baseball tournament.

"We are looking forward to having Travis back for the 2011 season," General Manager Dan Corbin said. "His experience with us and his ability to create a good culture, both on and off the field, for the players is one of the many things that excite me for his return to Waterloo for the upcoming summer. Additionally, the way Travis meshes with our skipper, Jason Nell, provides us with what should be a thrilling year of Bucks baseball."

Kiewiet resides in Dike with his wife Teresa and three children Marley, Parker, and Taylor.