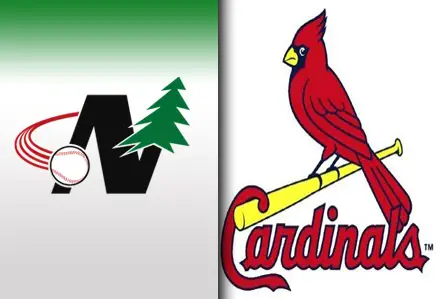 The St. Louis Cardinals had a disappointing 2010 as they missed the MLB Playoffs for just the 4th time in 11 years.  The 2006 World Series Champions expect to get back to the MLB Playoffs with a combination of veteran pitching and a dynamic offensive.  Versatile position players Daniel Descalso and Allen Craig will play important roles in reaching the 2011 Playoffs.  Descalso and Craig are both former NWL standouts and are currently listed on the 40-man roster for the Cardinals. 
Daniel Descalso spent his 2006 summer in the Northwoods League with the Wisconsin Woodchucks.  The left-handed hitting Descalso was drafted by the Cardinals in the 3rd round of the 2007 MLB Draft and made his Major League debut this past season.  Daniel made his debut on September 18th against the San Francisco Giants as a pinch hitter. 
Descalso worked his way through the Minor Leagues in four seasons with stops in Batavia, Palm Beach, Springfield and Memphis.  The Redwood City, CA native spent the majority of 2010 with the Memphis Redbirds (Triple-A) of the Pacific Coast League.  Descalso hit .282 with 32 doubles and 71 RBI for the Redbirds and had a .973 fielding percentage while playing 2nd base.  Descalso is listed as the 3rd string 2nd basemen and 3rd basemen for the Cardinals in 2011.
Another former Northwoods League alumni expected to contribute to the Cardinals is utility man Allen Craig.  Craig was an Alexandria Beetle in 2003 and 2005 before getting drafted by the Cardinals in 2006.  The Mission Viejo, CA native is the Cardinals most versatile player as he is listed as the backup for four positions (LF, RF, 1B, 3B).  Craig played in 44 games in 2010 for the Cardinals and finished the season with a .246 batting average, but only committed one error while playing five different positions. 
Other former NWL alumni to watch in the St. Louis Cardinals organization – Nick Longmire
Nick Longmire was a River Bat in 2009 and was drafted in the 5th round of the 2010 Major League Baseball Draft.  Longmire played for the Batavia Muckdogs (Single-A) of the New York-Pennsylvania League in 2010 and hit .287 with 55 RBI and 27 extra-base hits.  The former University of Pacific standout is expected to stay in center field, but could move to a corner outfield spot if his power numbers continue to increase as they did in 2010. 
Continue to follow 'NWL Alumni in Spring Training' on Thursday as we dissect the Chicago Cubs and pitchers Justin Berg, Thomas Diamond, Casey Coleman and John Gaub.