Rafters Add Element Mobile Home Plate Club
March 22, 2011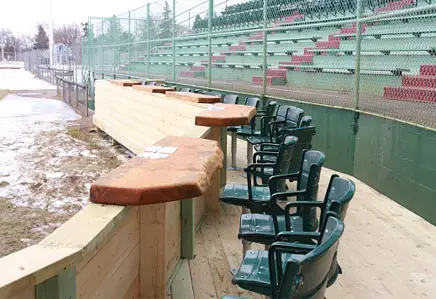 The Rafters and Element Mobile have partnered together to unveil the NEW "Element Mobile Home Plate Club" at Historic Witter Field in 2011. The new area will be located right behind home plate, approximately 18 inches above ground level. The deck area will include 40 new seats and table tops to enjoy the game. The Home Plate Club will include all-you-can-eat-and-drink ballpark food, soda and beer as well as wait service for the area and much more. Each table will include four seats and tables can be purchased on a full or half season basis.

"We are very excited to bring this premium viewing section to the Rafters and Witter Field," said Dan Kowalke, Director of Marketing at Element Mobile. "The Home Plate Club will be ideal seating for enthusiastic fans to be a part of the action. Element Mobile is excited to sponsor this exclusive area and to be in partnership with our community team. We wish the Rafters the best this season and will be right there cheering them on!"
This area offers a new row with no obstructed views and gets you closer to the action than ever before. It also introduces the concept of wait service at the ballpark as well as table tops to hold food and beverages.
This summer, fans will also get to witness mascot Rosco P. Rafter flying. That's right! Element Mobile will sponsor Rosco P. Rafter skydiving into the ballpark as well as the Rosco P. Rafter skydiving bobblehead. Mark your calendar for July 1st to catch all of the skydiving action.
Partnering with Element Mobile will also offer community members a chance to receive an outdoor movie experience in their own backyard! That's right, one night this summer we will offer a baseball themed movie at the ballpark and will allow fans to hang out in the outfield as they enjoy the movie.
The Rafters are happy to partner with the newly established local cellular company to provide these new entertainment experiences at Historic Witter Field. Not able to make a game? Don't worry, you can tune into Raftersbaseball.com to catch all of the highlights thanks to Element Mobile.