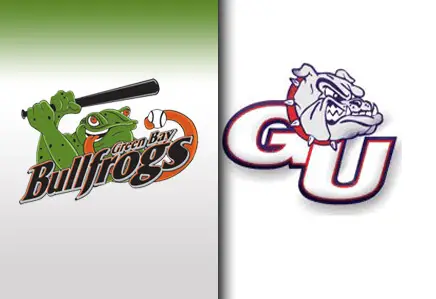 The Green Bay Bullfrogs are excited to announce three new signings for the 2011 season. Steven Halcomb (SO), Billy Moon (SO), and Andy Hunter (JR) all play key roles on a Gonzaga Bulldog team that is currently 26-14 overall and leading the West Coast Conference with a 9-3 record.
Following a summer in which he hit .301 for the Bend Elks of the West Coast Collegiate Baseball League, Halcomb has started all 41 games at Shortstop for the Zags this spring and has committed just 12 errors.
Billy Moon is expected to be a strong contributor to the 2011 'Frogs both on the mound and in the outfield.
Moon has settled in as Gonzaga's 3 hitter and it currently hitting .351 with 12 doubles, 3 home runs and a team leading 36 RBI. Also a contributor on the mound, the Spokane, WA native has 7 appearances and 13 innings pitched for the Bulldogs this spring. In the summer of 2010, Moon played for the Wenatchee Apple Sox of the West Coast Collegiate Baseball League and batted .276 while sporting a 2.61 ERA.
Another 2-way threat, Andy Hunter will be an imposing figure for the 2011 Bullfrogs. Standing at 6'6", Hunter finished 2nd in the West Coast Collegiate Baseball League in 2010 with 6 home runs. A right-handed pitcher and first baseman, Hunter currently has 32 2/3 innings pitched and a 3.58 ERA for the Bulldogs. The Tucson, AZ native had 15 doubles, 6 home runs and 40 RBI for Gonzaga in 2010.
Bullfrogs Field Manager Jordan Bischel says "All 3 of these young men come highly recommended by former Bullfrog pitching coach and former Gonzaga assistant Brandon Harmon. These 3 players are all key contributors to a Gonzaga team that is in the hunt to win the very competitive West Coast Conference. We expect similar contributions this summer in helping the Bullfrogs compete for a Northwoods Championship."