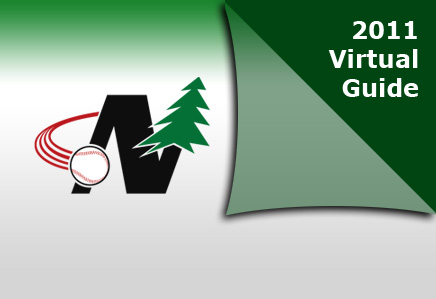 (Rochester, Minn.) As the 18th season of Northwoods League baseball approaches, the Northwoods League has released the 2011 Northwoods League Virtual Guide. This season's Virtual Guide, the second edition, engages the viewer with an even greater variety of information about the League, its 16 teams and cities, alumni and so much more.
View the new guide at http://www.nwlguide.com/.
The Virtual Guide breaks down each individual team within the Northwoods League with a descriptive video for each franchise. The video describes pertinent information regarding the NWL franchise as well as important information regarding the city and the team's alumni. The Virtual Guide also has a 2011 schedule for each team, a description of each franchise's front office and staff, the NWL cities baseball history, and an extensive team photo gallery. Plus you can learn about some of the best places to go, eat, or stay during your visit to each city.
Within the Virtual Guide, NWL fans have the ability to hear former NWL player testimonials on how the NWL helped them succeed at the professional level. Former NWL stars and current Major Leaguers Curtis Granderson, Andre Ethier, Clint Barmes and many more are featured in the 2011 Virtual Guide and describe their developmental experience in the Northwoods League.
The Northwoods League Foundation is also featured in the Virtual Guide. The NWL Foundation was formed in 2010 to give back to various communities throughout the NWL and had its inaugural event, a Celebrity Poker Tournament, this winter.
Overall the 2011 Virtual Guide displays the Northwoods Leagues ability to set themselves apart from all summer collegiate baseball leagues in the nation not only on the field, but off the field as well.
The designer of the Virtual Guide, Pursuant Sports, is, 'a leader in innovative fundraising and online media solutions who serve college athletics, charitable sports foundations, and professional or amateur organizations.
The Northwoods League has more teams, plays more games, and draws more fans than any Summer Collegiate Baseball League in North America. Opening day 2011 is on Wednesday, June 1st.