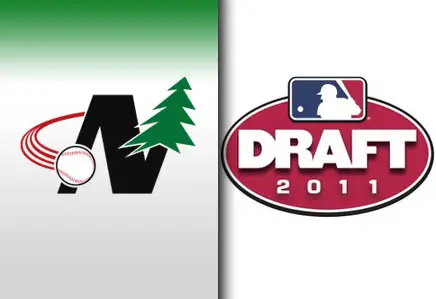 Rounds 20 thru 29 of the Major League Baseball Draft also took place on Tuesday afternoon. The middle ten rounds of the fifty round MLB Draft saw various NWL players selected once again.
Below is a breakdown of where various NWL standouts were selected.
Mitchell Beacom – Beacom was drafted in the 20th round by the San Francisco Giants. The massive left-handed pitcher pithed for the Wisconsin Woodchucks in 2010 and attended UCLA. Beacom was 2-1 last season in Wausau and collected six saves with a 1.55 earned run average.
Todd Simko – The left-handed pitcher was selected by the Washington Nationals with the 637th overall pick in the 21st round. Simko attended Texas A&M Corpus-Christi and signed with the Rochester Honkers in 2011.
Joe De Pinto – De Pinto spent 2009 in the Northwoods League with the Madison Mallards following his collegiate season with the USC Trojans. The 6'1'' infielder was chosen by the Chicago White Sox in the 21st round.
Zach Borenstein – The current Mankato MoonDogs was selected by the Los Angeles Angels of Anaheim in the 23rd round. Borenstein is currently hitting .382 with two home runs and eight RBI for the MoonDogs who are off to a hot 6-2 start.
Mike Marjama – The former La Crosse Logger and current Long Beach State catcher was selected in the 23rd round by the Chicago White Sox with the 711th overall pick. Marjama was a 2010 All-Star as he hit .286 with 37 RBIs.
Cody Fick – Fick was a member of the Mankato MoonDogs in 2009 and 2010 and was recently drafted by the Philadelphia Phillies. Fick, a former Evansville infielder, hit .245 in 2010 with Mankato in 228 at-bats.
Mark Threlkeld – The 2010 NWL Home Run Derby Champion was picked by the Kansas City Royals in the 25th round. Threlkeld spent time in Duluth with the Huskies in 2010 and led the NWL in home runs with 10.
Parker Berberet – The Oregon State catcher was selected bythe Milwaukee Brewers with the 761st overall pick. Berberet played for the Battle Creek Bombers in 2009 and 2010. In 2010, the California native hit .309 with 12 doubles.
Evan Frazar – Frazar was selected in the 27th round by the Cleveland Indians. The right-handed hitting shortstop played collegiately at Galveston College. Frazar has played in eight games for the Mankato MoonDogs this season.
Taylor Wrenn – The University of Tampa 2nd basemen was drafted by the Cincinnati Reds in the 27th round. Wrenn played for the Mankato MoonDogs in 2010 and hit .300 in in 60 at-bats.
David Hurlbut – The Cal State Fullerton left-handed pitcher spent time with the Rochester Honkers in 2010. Hurlbut was selected by the Minnesota Twins in the 28th round. The southpaw was 3-0 in 2010 with Rochester with a 1.62 earned run average.
Check www.northwoodsleague.com later Thursday night for a breakdown of rounds 30-50.