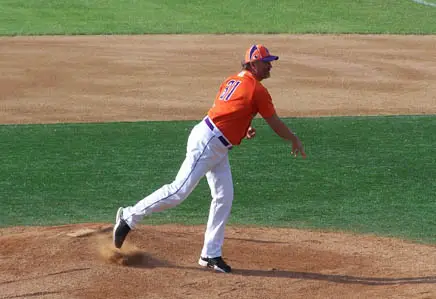 Two-time Cy Young Award winner and 1985 World Series MVP Bret Saberhagen spent some time in the Northwoods League this past week. The Kansas City Royals great joined the Alexandria Beetles coaching staff and took part in a Northwoods League Foundation experience.
It's the third time over the years that the elder Saberhagen has joined his son Drew in a Beetles uniform. Drew was a pitcher for the Beetles for four seasons from 2005-2008 and now is in his second summer as the team's pitching coach.
"Golf with the Saberhagens" was one of the experiences purchased on the silent auction at the inaugural Northwoods League Foundation Celebrity Poker Tournament in January. Bret and Drew were part of a foursome on Tuesday at Geneva Golf Club in Alexandria.www.genevagolfclub.com
Bret spent 16 seasons in the Major Leagues including eight with the Kansas City Royals where he won the American League Cy Young Award in 1985 and 1989. The Royals beat the St. Louis Cardinals in 7 games in the 1985 World Series. Bret went 2-0 in the Series, including a complete game 5-hit shutout in Game 7, the day after Drew was born. Bret was named the MVP.
He played for the New York Mets, Colorado Rockies and Boston Red Sox over the final eight years of his career. He finished with a 167-117 career record and retired following the 2001 season.
Bret Saberhagen is pictured throwing out the ceremonial first pitch at the game Monday in Alexandria.