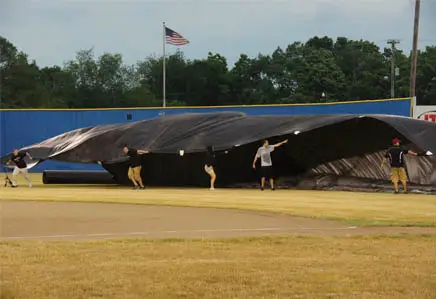 Wisconsin 9, Wisconsin Rapids 1
Starting pitcher Tom Briner (UC Davis) and relief pitcher Nick Greene (Rio Hondo) combined on a five hitter Tuesday night. Briner picked up the win throwing the first 5.0 innings and Green only allowed two hits in the final 4.0 innings. Danny Susdorf (UC San Diego) homered in the win for the Woodchucks and drove in three runs. Michael Huckabay (Madison) was the losing pitcher of record as he allowed eight runs in 5.1 innings of work.
Madison 16, Waterloo 3
It was a slugfest Tuesday night at Riverfront Stadium in Waterloo for the Mallards. Madison knocked out 19 hits, walked seven times, and beat the Bucks 16-3. Six Mallards had multi-hit games and were paced by Justin Parr (Illinois) who hit 5-for-6 with three runs scored. The Mallards also cranked out four home runs on the night as Willie Argo (Illinois) hit two round trippers. Argo, who played for the Bucks in 2010, had six RBIs against his former NWL team. Nate Theunissen (Central Michigan) drove in three runs on three hits for Madison.
Eau Claire 8, Green Bay 5
With the Bullfrogs leading by a score of 5-3 in the 7th inning at Carson Park, Josh Scheffert (Nebraska) stepped to the plate. Scheffert blasted a three run homer to left field to take the a 6-5 lead. The Express would score two more runs in the bottom of the 8th to put the final score at 8-5. Eau Claire had four players with multi-hit games and received quality relief pitching Tuesday night. A.J. Glasshof (Wharton CC) picked up the win in relief and Harvey Martin (Central Michigan) picked up his 1st save of the season as he threw the final 2.0 innings.
Alexandria 7, Thunder Bay 0
Alexandria shutout the Thunder Bay Border Cats at Port Arthur Stadium by a score of 7-0. The Beetles jumped out to a 1-0 lead after the top of 4th, but did the majority of their scoring later in the game. They scored three runs in both the 8th and 9th innings. Kevin Grove (St. John's) was 4-for-5 on the night with two RBIs. Nate Smith (Furman) picked up his 2nd win of the season for Alexandria as he allowed four hits in 7.0 innings of work.
Willmar, Mankato
Willmar and Mankato went to extra innings Tuesday at Franklin Rogers Park in Mankato with an 8-8 tie, but rain would not allow them to finish.
Rochester, St. Cloud
The St. Cloud River Bats have announced that Tuesday's
 game against the Rochester Honkers has been postponed due to rain. The River Bats and Honkers will play a double-header June 22nd beginning at 1:05 p.m.
La Crosse, Battle Creek
Postponed due to rain.
Duluth, Brainerd
Postponed due to rain.