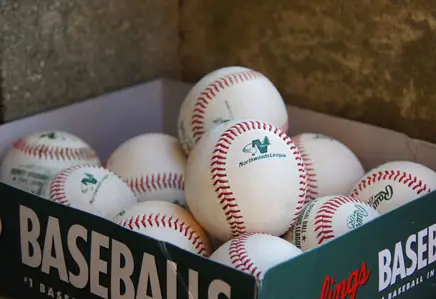 Mankato 5, Willmar 4 (Game 1)
Sam Selman (Vanderbilt) dominated for six innings, striking out ten Stingers, as Mankato edged Willmar in game one of a day-night doubleheader Saturday at Bill Taunton Stadium. A late rally by Willmar tied the game leaving Selman with a no-decision after he went six innings allowing only one run on two hits. Mankato went ahead for good on a Matt Reida (Kentucky) RBI single in the top of the 8th inning. Eduardo Gonzalez (Alcorn State) drove in three runs in the loss for Willmar. Mike Rivera (Fresno Pacific) hit his first home run while Steve Nyisztor (Rutgers) went 3-for-3 for Mankato who is the first team to get to 40 wins in 2011.
Willmar 5, Mankato 3 (Game 2)
Willmar earned the doubleheader split with a 5-3 victory in the night cap behind a 4-for-4 performance by Mitch Delfino (California). He doubled, scored two runs and had one RBI in the win. Chris Gonzales (Point Loma) was solid for five innings, striking out four on three hits and one run, but did not factor into the decsion. Sean Dwyer (Florida Gulf Coast) went 2-for-4 with a triple, an RBI and a run scored in the victory. Shaun Cooper (Utah), Sam Lind (Vanderbilt), and Jake Randolph (Texas Tech) each had two hits in the loss.
Wisconsin Rapids 5, Waterloo 4 (13 innings)
The Rafters outlasted the Bucks and a two hour and 13 minute rain delay Saturday to pick up a 13-inning home victory, winning on a wild pitch. Jack Larsen (UW-Whitewater) and Eric Van Beck (UW-Stevens Point) combined to throw five hitless innings of relief as Van Beck earned his first victory. Josh Cyr (North Alabama) had a pair of doubles and a run scored while Brandon Hohl (Illinois) walked twice and scored twice including the game-winning run. Cameron Perkins (Purdue), Thomas Lindauer (Illinois), and Drew Walsh (Long Island) each picked up two hits in the loss.
La Crosse 8, Wisconsin 4
The La Crosse Loggers are now tied for first place in the South Division second half standings after picking up an 8-4 victory and a series sweep against the Wisconsin Woodchucks in front of 3,238 fans at Copeland Park. Jimmy Bosco (Arkansas) hit a three-run home run in the 8th inning to break a 4-4 tie. Corey LeVier (San Diego) and Andrew Knapp (California) both had three hits in the victory as Knapp boosted his league-leading batting average to .404. Cody Regis (UCLA), Austin Coleman (Cal State-San Marcos) and Dimitri De La Fuente (Cal State-Fullerton) all hit home runs in defeat for Wisconsin.
Thunder Bay 4, St. Cloud 3
With a solo shot in the 9th inning, David Fallon (Illinois State) homered for the third consecutive game and gave the Border Cats a victory at St. Cloud. John Straka (North Dakota State) tossed eight innings allowing just three runs on six hits and striking out eight to pick up his 5th win. Carlos Lopez (Cal State-Fullerton) had a big night in the loss for St. Cloud. He reached all four times going 3-for-3 with a double, home run, two RBIs and two runs scored.
Battle Creek 5, Eau Claire 4
Troy Forton (Western Michigan) gave the Bombers six good innings and Daniel Rockett (Texas-San Antonio) and Bryce Redeker (Miami (OH)) each knocked in two runs to help Battle Creek win at Eau Claire. Forton didn't allow an earned run while striking out three and giving up four hits as he improved his record to 6-4. Rockett had two doubles and Redeker hit his 7th home run. Justin Viele (Santa Clara) had a two-run double in the loss for the Express.
Alexandria 9, Rochester 8 (13 innings)
Jeremy Boyd (Southern Polytechnic State) hit a game-tying three-run home run in the top of the 9th inning and Chad Bunting (California) drove home the winning run with a single in the 13th to give the Alexandria Beetles an improbable victory at Rochester Saturday. The Honkers led the game 8-2 entering the 7th inning, thanks in part to Johnny Coy's (Wichita State) 11th home run of the season and Devin Thaut's (Southern Polytechnic State) 2nd of the year. Michael Schweiss (Dallas) earned the win by holding the Honkers scoreless in three extra innings. The win was the Beetles 7th in a row tying a franchise record.
Madison at Green Bay (canceled)
A rain storm hit Joannes Stadium in Green Bay in the 4th inning Saturday night and the Mallards and Bullfrogs were not able to resume play. Because Green Bay and Madison are not scheduled to face each other again this season, the game was canceled.
Brainerd Lakes Area at Duluth (canceled)
Heavy rains hit Wade Stadium on Saturday afternoon leaving the field unplayable. It was the final scheduled meeting this year between the Lunkers and the Huskies.