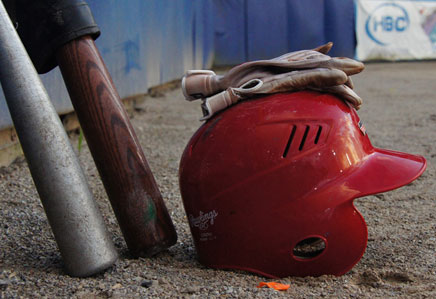 La Crosse 9, Wisconsin Rapids 8
As the first game to go final Saturday, the Loggers left Witter Field knowing that their playoff hopes remained alive following their 9-8 win. La Crosse scored eight of their nine runs between the 6th and 7th innings as they held off a late rally by Wisconsin Rapids, who scored three in the 9th. Andrew Knapp (California) will enter the final day of the of the season hitting exactly .400 after his 3-for-5 performance Saturday. Knapp doubled, scored a run and drove in two in the game. Trentt Copeland (Evansville) hit his 9th homer of the season for La Crosse. In the loss, Josh Cyr hit his 12th home run of the season for the Rafters.
Battle Creek 3, Madison 1
The Battle Creek Bombers brought the playoff picture into focus Saturday night by defeating Madison and clinching the second half title in the South Division. The win eliminated La Crosse and clinched a berth to the postseason for Green Bay. Scott Simmons (Tusculum) improved to 4-0 after pitching 5 1/3 innings and allowing only one run on three hits. Tom Windle (Minnesota) pitched extremely well but takes the loss to fall to 2-4. He struck out eight over 6 2/3 innings and allowed two runs, just one earned. Jimmy Martinez (Western Michigan) and Rhett Goodmiller (Taylor) led the Bombers offense, each going 2-for-4 with an RBI.
Waterloo 6, Wisconsin 4
Connor McClain (Hutchinson CC) had four of the Bucks 13 hits as they came from behind to beat the Woodhchucks 6-4 Saturday night in front of 3,215 fans at Riverfront Stadium. Jake Powers (Missouri State) struck out 10 over 6 2/3 innings but didn't factor into the decision for the Bucks. Jonathan Boersma (Cal State-Dominguez Hills), also in a no-decision, had a good start as he went 6 2/3 innings for the Woodchucks, striking out five and allowing just one run. Thomas Lindauer (Illinois) had a big two-run double in the Bucks five-run 8th inning.
Green Bay 5, Eau Claire 4 (14 innings)
Green Bay clinched a playoff berth in about the 9th inning but they didn't get to celebrate until Phillip Ervin (Samford) drove home Ryan Allgrove (UC Davis) with a single in the 14th inning Saturday night. The Bullfrogs will finish with the second best overall record in the South Division and face off with Battle Creek in the postseason. Josh Scheffert (Nebraska) drove in three runs with a double in the 6th inning for the Express, who took a 4-3 lead in the 9th on a Ryan Shober (Illinois-Chicago) single. Green Bay tied the score on an error by the pitcher to send the game to extras.
Mankato 9, Thunder Bay 8
Mankato rallied in the bottom of the 7th at home in front of a big crowd of 1,533 at Franklin Rogers Park to defeat Thunder Bay 9-8. The MoonDogs batted 13 in a seven-run 7th inning. Patrick Goelz (Bethune-Cookman) faced seven batters and earned his 9th save of the season. Zak Wasserman (Louisville) went 2-for-3 with two RBIs and a run scored for the MoonDogs. Newly crowned NWL MVP Shaun Cooper (Utah) went 2-for-3 with a pair of doubles and his league-leading 61st RBI. Kevin Taylor (St. Josephs) went 3-for-4 with a double, RBI and two runs scored for the Border Cats.
Willmar 15, Brainerd Lakes Area 3
After being swept in Thunder Bay, Willmar returned home Saturday night and erupted with a 15-3 victory against Brainerd. For the Stingers, Eduardo Gonzalez (Alcorn State) and Jarid Scarafiotti (Stephen F. Austin) both had three hits on the night, while Sean Dwyer (Florida Gulf Coast) and Ryan Dettman (Oregon State) both homered. Casey Roche (Pittsburgh) went 2-for-4 with two RBIs for the Lunkers.
Duluth 4, Rochester 1
A walk-off three-run home run in the bottom of the 9th by Chris Manship (Kansas) broke the 1-1 tie in front of a roaring home crowd of 2,385 fans at Wade Stadium. It was Manship's 4th home run of the season as he went 2-for-4 on the night. Dan Britts (Wisconsin-Strout) pitched six strong innings, striking out seven and only allowing three hits in a no-decision for Duluth. Chance Brull (Doane) came in for relief for Britts in the 7th inning and earned the win by tossing three hitless innings. Erik Mattingly (Creighton) had a double and the only RBI for the Honkers.
Alexandria 9, St. Cloud 5
Tanner Vavra (Valparaiso) went 3-for-4 and Chad Bunting (California) hit a three-run home run as the Alexandria Beetles spoiled the St. Cloud River Bats home finale with a 9-5 win. Weather delayed the start of the game by about one hour and forty minutes. Kevin Vangheluwe (Michigan) threw 1 1/3 innings of scoreless relief to pick up his Northwoods League leading 8th win of the season. For St. Cloud, Michael Fagan (Princeton) threw four innings out of the bullpen, allowing just one run and striking out eight to take the Northwoods League lead in that category with 81 this summer in just 50 2/3 innings pitched.
Playoff Schedule
North Division
Monday, August 15
Alexandria at Mankato, 7:05 PM central
Tuesday, August 16
Mankato at Alexandria, 7:05 PM central
Wednesday, August 17
Mankato at Alexandria, 7:05 PM central (if necessary)
South Division
Monday, August 15
Battle Creek at Green Bay, 7:05 PM central
Tuesday, August 16
Green Bay at Battle Creek, 7:05 PM eastern
Wednesday, August 17
Green Bay at Battle Creek, 7:05 PM eastern (if necessary)
Summer Collegiate World Series
Thursday, August 18
TBD
Friday, August 19
TBD
Saturday, August 20
TBD (if necessary)