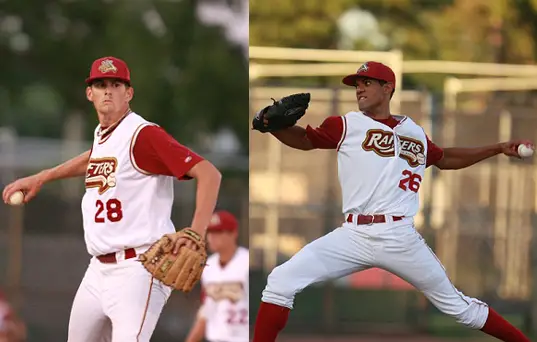 Wisconsin Rapids, WI – Wisconsin Rapids Rafters' officials announced that two key members from the 2011 team will be returning to Wisconsin Rapids for a second season. Nestor Bautista (Ball State) who was named the Rafters 2011 MVP will join 2011 Northwoods League All-Star Skyler Debilzen (UW-La Crosse) on the pitching staff again this season.
"Both Nestor and Skyler will bring NWL experience to the mound in 2012, which is a big plus for us," said general manager Liz Kern. "We are very excited to have them returning and look forward to continuing to watch them grow as pitchers and young men."
LHP-Nestor Bautista, 6'3", 190 lbs (L/L) Sophomore, Ball State [pictured right]
Coming off his freshman season at Ball State University, Bautista enjoyed a breakout summer on the mound with the Rafters in 2011. The Manhattan, New York native ranked second on the team with 13 games started and logged 69.2 innings on the mound, while recording 46 strikeouts. He was a model of consistency throughout the season, compiling a 3-4 record and a 3.75 ERA on the way to eventually being voted the team MVP. A two-time All-State selection and three-time All-New York City recipient while attending George Washington High School, Bautista will begin his sophomore season for the Ball State Cardinals this spring.
RHP-Skyler Debilzen, 6'5", 195 lbs (R/R) Junior, UW-La Crosse [pictured left]
Joining Bautista on the 2011 pitching staff will be right-handed reliever Skyler Debilzen, who will enter his junior season at the University of Wisconsin –La Crosse this spring. Debilzen was the Rafters lone All-Star representative at the 2011 Marshfield Clinic Northwoods League All-Star Game in Wisconsin Rapids, tossing one scoreless inning in relief while striking out two batters in that game. An Oregon, WI native, Debilzen began the season on a temporary contract but quickly established himself as a valuable member of the Rafters bullpen. With a vacant roster spot available near the end of June, the Rafters were able to sign Debilzen to a full contract, allowing him to remain with the team through the remainder of the season. In 30 appearances for the Rafters, spanning 42.1 innings on the mound, Debilzen posted a team-best 2.76 ERA while recording 38 strikeouts and only allowing 14 walks. Like Bautista, Debilzen was also a model of consistency, throwing multiple innings out of the bullpen and getting key outs in critical situations throughout the year. After allowing runs in his first two appearances of the year, Debilzen put together a string of 14 scoreless outings (June 7-July 6) spanning 20.2 innings, setting a new Rafters franchise record. Debilzen's former college teammate, Mitch Running (UW-La Crosse), held the previous scoreless streak of 15.2 innings, which he compiled in the Rafters inaugural season in 2010.