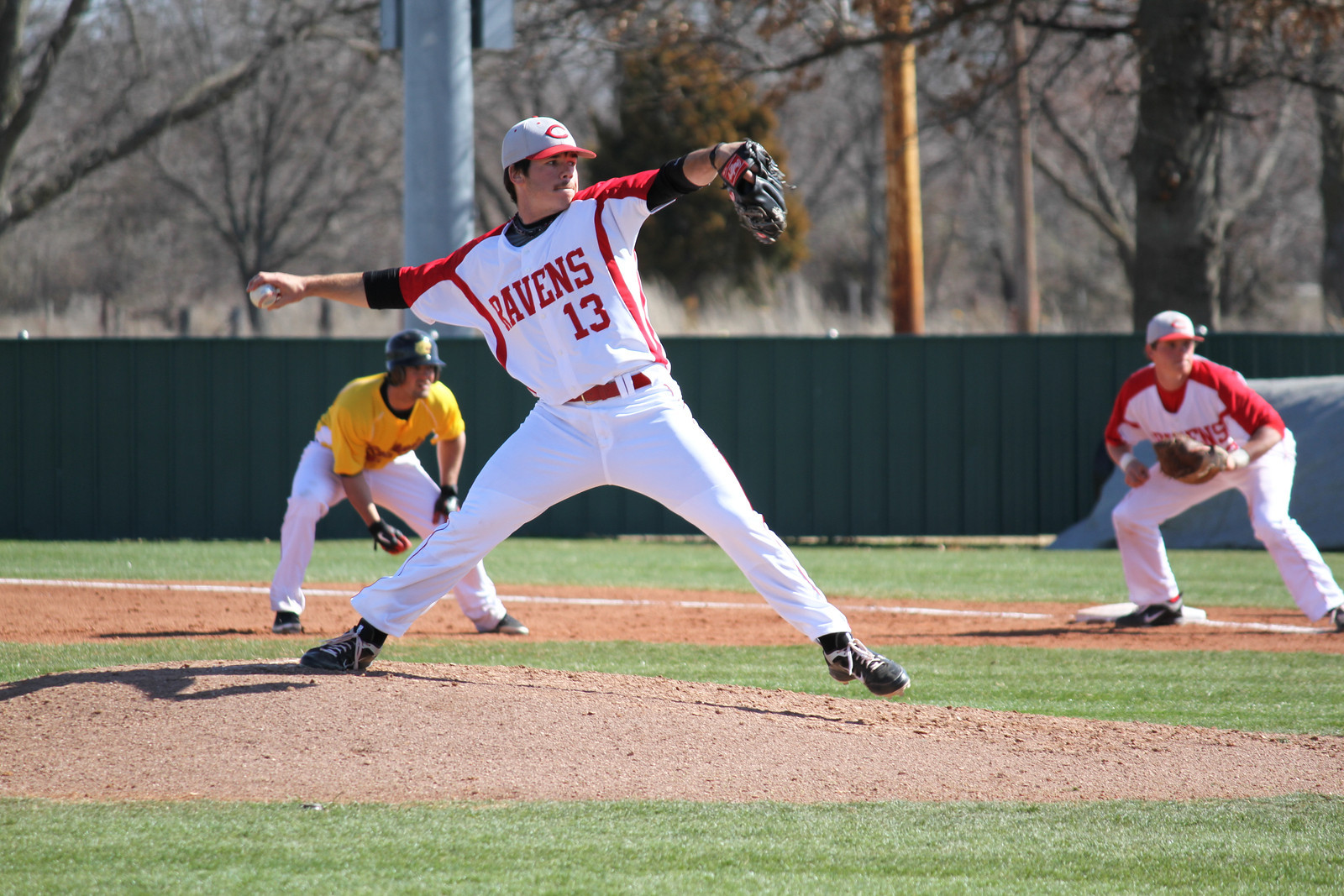 Wisconsin Rapids, WI – The Wisconsin Rapids Rafters added two right-handed hurlers to the 2012 pitching staff with the additions of junior Ben Heller (Olivet Nazarene University) and sophomore Cole Webb (Coffeyville Community College). Webb [pictured] is currently playing for former Rafters manager John Martin, who was named head coach of Coffeyville Community College (Kansas) last July. Current Rafters manager Jake Martin is working as an assistant coach at the College this spring.
"We are excited to add these two experienced pitchers to this year's team," said manager Jake Martin. "Ben is a hard-throwing, right-hander who will bring past summer league experience to Wisconsin Rapids. Cole is a hard worker that pitches and also provides a utility option in the field. On the mound he attacks the zone and is capable of filling in at a variety of positions on the diamond."
RHP-Ben Heller, 6'3", 205 lbs (R/R) Junior, Olivet Nazarene University
Ben Heller has gotten off to a tremendous start to begin his junior season at Olivet Nazarene University (Illinois). Through his first three starts of the season Heller had pitched 18.2 innings, allowing only 11 hits and one earned run, while recording 25 strikeouts. He currently carries a 2-1 record with a miniscule 0.48 ERA. The Olivet Nazarene University baseball team is coming off a 33-win season and a third consecutive trip to the NCCAA World Series.
Heller will bring summer league experience with him to Wisconsin Rapids after spending the 2011 summer pitching for the Athletes in Action Fire in the Alaska Baseball League. He finished with a team-best 2.20 ERA in 14 appearances and was selected to play in the league's All-Star Game. Athletes in Action is a campus and pro sports ministry.
As a sophomore at Olivet Nazarene, Heller appeared in 14 games (13 starts) and finished the season with a 4-6 record. In 66.1 innings pitched, he struck out 55 batters while allowing 27 walks. He was named Academic All-Conference during the spring of 2011. As a freshman, he appeared in 16 games (13 starts) and posted a 6-6 record and 4.11 ERA. In 76.2 innings on the mound he struck out 41 batters.
Heller is a native of Whitewater, Wisconsin where he earned First Team All-Conference, Academic All-State, and First Team All-District baseball honors as a senior in 2009.
RHP-Cole Webb, 5'10", 180 lbs (R/R) Sophomore, Coffeyville Community College
Cole Webb has created a favorable first impression for his new manager this spring. Playing for former Rafters manager John Martin, who is now the head coach at Coffeyville, Webb began his season by throwing a no-hitter against Western Oklahoma on February 17th. Webb pitched seven innings and recorded six strikeouts in the dominating performance.
His second appearance of the season appeared to be headed for a similar result. Webb had an opportunity for a second no-hitter on February 26th as he held Redlands Community College hitless through five innings, before allowing two hits and a pair of runs in Coffeyville's 12-2 win. Webb walked three and struck out seven batters in the outing. Through three starts this spring, spanning 19 innings, Webb had allowed only 6 hits and has struck out 19 batters. He carried a 3-0 record and 2.21 ERA through March 3rd.
Last season, as a freshman, Webb posted a 4-3 record with a 3.27 ERA. In nearly 72 innings, he struck out a team-high 59 batters while only allowing 64 hits. He is a native of Tulsa, Oklahoma.
The Wisconsin Rapids Rafters are members of the 16-team summer collegiate Northwoods League. The Rafters will play a 70 game schedule with 35 home games in 2012. Opening Day at historic Witter Field is scheduled for Wednesday, May 30th at 7:05 pm against the La Crosse Loggers. Reserve your 2012 ticket packages today by calling 715-424-5400, or in person by stopping by the Rafters office at historic Witter Field. The offseason office hours are Monday through Friday from 9am-5pm. For more information, visit www.raftersbaseball.com.