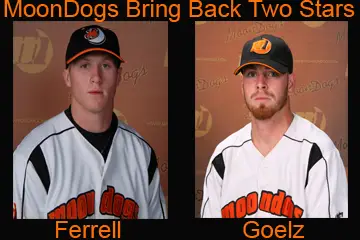 MANKATO, Minn.–The Mankato MoonDogs Baseball Club, a member of the Northwoods League, is pleased to announce the commitment of outfielder Cody Ferrell and pitcher Patrick Goelz, both from Oklahoma City University, to return to play for the MoonDogs in the 2012 season.
Ferrell, a 5-foot-11-inch, 195-pound outfielder, transferred from Seminole State College to OCU and is hitting .331 for the Stars this spring. As he did for the MoonDogs, Ferrell is leading the Stars in stolen bases with 12 of 13 attempts.
"I'm excited to have Cody back for a second year. He will be a solid player, hitting at the top of our line-up everyday, and he will bring good speed to the base paths," said Manager Mike Orchard.
Goelz, a 6-foot-3-inch, 185-pound junior also returns to the MoonDogs for a second season. Goelz transferred from Bethune-Cookman University to OCU and is boasting a 1.01 ERA out of the bullpen for the Stars. With the MoonDogs, Goelz performed exceptionally well by posting a 1.83 ERA also lead the team in saves with nine.
"Patrick will continue to play a huge role for us this summer. We look forward to having him back because he will be a great asset at the back of the bullpen in closing games," said Orchard.
By bringing back two players that have been through the NWL league before and realize the tough schedule, 70 games in 75 days, helps to provide an advantage for the MoonDogs.
"These guys understand it's a grind and the fact that they are eager to comeback and play for us says a lot about their discipline and that will be a benefit to the team this summer," said Orchard.
The MoonDogs home opener is scheduled for Friday, June 1 at 7:05 p.m. against the St. Cloud Rox at Franklin Rogers Park. Season tickets are now on sale at the MoonDogs office located at 1221 Caledonia Street. For more information, visit our website www.mankatomoondogs.com or call the MoonDogs office at 507-625-7047.