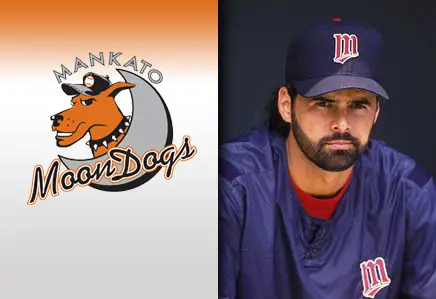 MANKATO, Minn.–The Mankato MoonDogs Baseball Club, a member of the Northwoods League, is thrilled to commence the start of the MoonDogs season at Franklin Rogers Park by featuring Rick Aguilera as the opening night guest on June 1.
Aguilera, a member of the '91 World Series Championship and a three-time All-Star pitcher for the Minnesota Twins played 11 seasons with the team and held the franchise record with 254 saves until 2011. In the height of both his personal achievements and team accomplishments, "Aggie" was inducted as the 19th member into the Twins Hall of Fame on June 21, 2008.
The Twins Hall of Famer will not only throw out the first pitch for the MoonDogs home opener, presented by Wealth Enhancement, but he will also be available to take pictures and sign autographs to help kick off the 2012 season.
"Aguilera continues the trend of having terrific MoonDogs Opening Day guests that started with Harmon Killebrew in 2002," said MoonDogs General Manager Kyle Mrozek. "We couldn't be more excited to have Rick, a great Twin and two-time World Series Champion, to help kick-off the 2012 season."
Aguilera won his first World Series Championship with the Mets in 1986. The San Gabriel, Calif. native played 16 years in the Major Leagues before officially retiring in February of 2001. After retirement, Aguilera moved to Ranchero Santa Fe, Calif. where he resides with his two children and wife, Sherry.
The MoonDogs home opener is scheduled for Friday, June 1 at 7:05 p.m. against the St. Cloud Rox at Franklin Rogers Park. Season tickets are now on sale at the MoonDogs office located at 1221 Caledonia Street. For more information, visit our website www.mankatomoondogs.com or call the MoonDogs office at 507-625-7047.