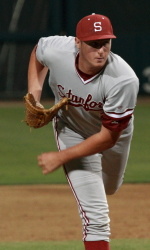 THUNDER BAY, Ontario (May 8, 2012) — The Thunder Bay Border Cats are proud to announce the signing of lefthanded pitcher Garrett Hughes (pictured) from Stanford University in California. The 6'8", 245 pound southpaw is currently in his sophomore season with the Cardinals, one of the top baseball programs in the PAC-12 conference and all of Division-One college baseball in the United States. Hughes, a native of Carlsbad, Calif., has appeared in 10 games, including two starts with Stanford this spring, and is 2-1 with a 2.55 earned run average. Hughes has recorded 14 strikeouts in 17 2/3 innings and has held opponents to a .188 batting average.
The Cats have also dipped into the PAC-12 to sign pitcher Zach Ortiz and first baseman Pat Gallagher from the UCLA Bruins. Ortiz, a 6'0", 220 pound righthander from Garden Grove, Calif., has made 10 appearances out of the bullpen this year for the Bruins and is 2-0 with a 2.61 ERA. Gallagher, a 6'2", 215 pound lefthanded hitter from Reno, Nev., has played in 13 games in a limited role and is hitting .105 with five runs batted in.
Thunder Bay manager Andy Judkins has also signed two players from St. John's University in New York with the additions of catcher Danny Bethea and infielder Kyle Lombardo. Bethea is a junior from San Diego, Calif., and has played in 36 games for the Red Storm this season. The 6'1", 215 pound backstop is batting .259 with three doubles, two home runs and 17 RBI's. Lombardo, a 6'2", 190 sophomore from Setauket, N.Y., has played in a backup role with St. John's and is hitting .111 (2-for-18), with one triple in 15 games.
The Border Cats will open their 10th anniversary season on the road Wednesday, May 30, in Alexandria against the Beetles. The Cats will host the Beetles for their home opener Monday, June 4, at 7:05 p.m. at Subway Field.