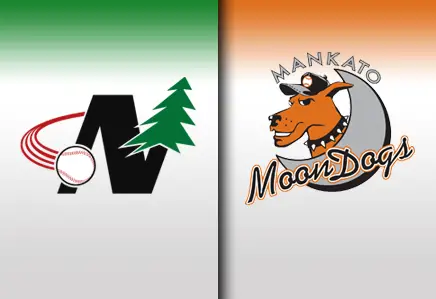 MANKATO, Minn. (May 22, 2012) — The Mankato MoonDogs Baseball Club, a member of the Northwoods League, is pleased to announce the return of Field Manager, Mike Orchard along with naming the rest of the coaching staff for the MoonDogs 2012 season.
In what will be his fourth season with the MoonDogs, Orchard will be accompanied by coaches, Jason Ramos, who returns for a second season, along with two new additions to the coaching staff, Mark Goodman and Cody Fick.
Orchard is returning after quite the season last summer, including a first half championship, while the roster boasted the leagues MVP, Shaun Cooper and Pitcher of the Year, Blake Schwartz and also broke the franchise record with 42 wins. On top of all that, Orchard became the MoonDogs all time winningest manager with 110 career wins.
Ramos, who was in his first season with the MoonDogs last summer, added to all the hype of a successful season as he was named the 2011 Northwoods League Coach of the Year. Ramos served as the infield coordinator at Seminole State College in 2011, and has prior experience as a hitting coordinator. Ramos and will play a similar role for the MoonDogs as the third base and hitting coach.
Goodman will enter his first season with the MoonDogs as the pitching coach. In his playing days Goodman spent five seasons in the minors and set a record for the St. Joe Blacksnakes, appearing in 45 games out of the bullpen.
In his early coaching days, and by request of the Russian Baseball Federation, Goodman went to Moscow in 2007 to help instruct Russian Olympic Team Baseball pitchers. Currently, Goodman is the Assistant Baseball Coach at Mayville State University (Mayville, N.D.)
Fick, a former MoonDog player will arrive in Mankato for another summer, however this time he'll be a coach. In 2010, the All-American third baseman of the University of Evansville (Evansville, Ill.) set the record for doubles in a single season, 20, for the MoonDogs.
As a two-way player, Fick went on to be drafted as a pitcher by the Philadelphia Phillies in the 23rd round of the 2011 MLB draft. He played a single season with their Class A team, the Williamsport Crosscutters, where he went 3-1. Fick, in his first coaching experience, will handle first base responsibilities along with the MoonDogs defense this summer.
The MoonDogs home opener is scheduled for Friday, June 1 at 7:05 p.m. against the St. Cloud Rox at Franklin Rogers Park. Season tickets are now on sale at the MoonDogs office located at 1221 Caledonia Street. For more information, visit our website www.mankatomoondogs.com or call the MoonDogs office at 507-625-7047.