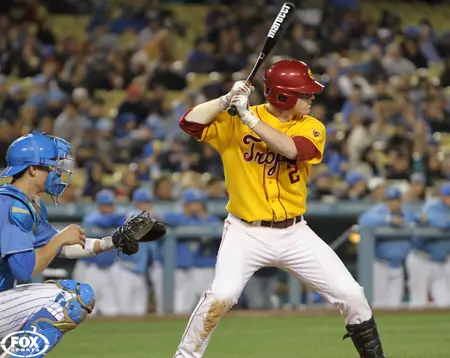 THUNDER BAY, Ontario (May 23, 2012) — Thunder Bay Border Cats manager Andy Judkins continues to add to the roster with the addition of infielder Adam Landecker (pictured) from the University of Southern California (USC). In 39 games with the Trojans this season, the 6'1", 180 pound junior is batting .329 with four doubles and 12 runs batted in.
The Cats have also come to terms with outfielder James Bonds from the College of the Canyons in Santa Clarita, Calif. In 31 games this season, the freshman is batting .351 with seven doubles, three home runs and 23 RBI's. Chad Richie is 5'10", 200 pound pitcher from Kentucky's Georgetown College. The junior righthander has appeared in 22 games out of the bullpen this spring and is 6-1 with 12 saves and an 0.72 earned run average. Second baseman Philip Lyons is a sophomore at Lousiana's Nicholls State University. Lyons has played in 54 games this season and is hitting .335 with five doubles, one home run and 36 runs batted in.

The Cats have also signed outfielder Omar Cotto Lozada, a native of San Juan, Puerto Rico. Cotto Lozada is a sophomore outfielder from the USC Trojans. In addition, the Cats have added pitcher Blake Fonfara (Lipscomb Univeristy), pitcher Kacy Kemmer (Austin Peay State), pitcher Mitch McQueen (Washington State), pitcher Jordan McCoy (Nicholls State), and outfielder Justin Higley (Sacramento State).

Thunder Bay's home opener is Monday, June 4, at Subway Field against Alexandria at 7:05 p.m.