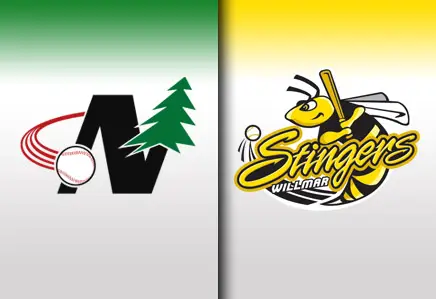 WILLMAR, Minn. (May 25, 2012) — The Willmar Stingers announced today the final roster moves prior to opening day next Wednesday. Seven additional players have joined the roster as the Stingers open their third season at 7:05 p.m. against the Mankato MoonDogs at Bill Taunton Stadium presented by Christianson and Associates and media partner Lakeland Broadcasting.

Headlining the recent moves is former 2011 Northwoods League All-Star Steven Brault. Brault played for the Brainerd Lakes Area Lunkers last season and earned the honors of playing in the Northwoods League All-Star Game in Wisconsin Rapids, Wis. He also was named to the post-season team announced following the 2011 Northwoods League season.

Brault, a 6-foot-1 170 lbs. outfielder plays college baseball at Regis University in Denver, Colo.
In 54 games for the Lunkers last year, he was finished in the top 10 in hitting with a .330 average and had 10 doubles with 31 RBI. He even made a few appearances on the mound for the Lunkers and had a 1-2 record with a 1.65 ERA in two starts, recording one save.

Also added to the roster this week is Occidental College infielder Logan Allen. Allen recently earned Second-Team All-SCIAC honors as a shortstop. He continued his productive collegiate career this spring by hitting .325 and stealing 24 bases.

The Stingers also signed first baseman/outfielder Brooks Beisner from Florida Gulf Coast University. Beisner is a transfer from Auburn University where he hit .320 as a sophomore with 13 doubles, four triples, six home runs, and 49 RBI.

A familiar name will re-join the Stingers this season as well. Sophomore right-handed pitcher Anthony Consiglio will return from Western Nevada Community College. Consiglio was 2-0 last year with the Stingers, but left the team early to rehab an arm injury early in the season.
For the first time in franchise history the Stingers have signed two players from the Texas Tech University. Junior right-handed pitcher Jerad McCrummen and sophomore left-handed pitcher Andre Wheeler will add depth to the pitching staff.
McCrummen and Wheeler finished tied for second on the team with 22 pitching appearances (22). McCrummen went 3-2 this all spring with a 4.56 earned run average and opposing batters hit .242.
Wheeler was drafted by the Los Angeles Dodgers in the 22nd round of the 2010 MLB Draft, but elected to attend college. This spring Wheeler had a 1-0 record with a 4.15 ERA and struck out 17 hitters in 17.1 innings pitched.
The last player to sign with the Stingers is left-handed pitcher Michael Wills. Wills is a junior from the University of Memphis. This spring, he had a 4-1 record with a 4.34 ERA in 15 appearances. Wills is the second cousin of San Diego Chargers All-Pro Quarterback Phillip Rivers.
Other moves include the Stingers losing sophomore catcher Mike Hollenbeck from Illinois State University and Kelsey Outram from Southern Utah University. Hollenbeck will be taking a summer class on campus and Outram needed to take the summer off due to a high number of innings pitched this spring.
For more information regarding the 2012 roster or tickets for the 2012 Home Opener on Wednesday, visitwww.willmarstingers.com or www.wctrib.com. The 2012 season is presented by Charter Communications.