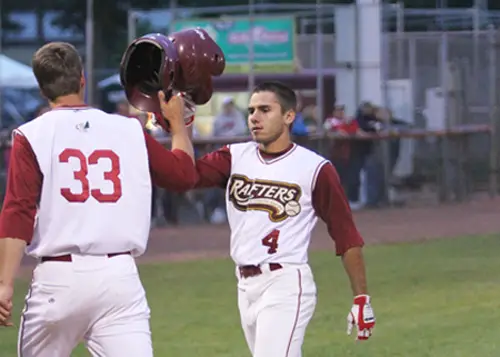 ROCHESTER, Minn. (May 31, 2012) — More exciting action wrapped up around the Northwoods League Thursday as all 16 teams were in action.
In Alexandria, the Thunder Bay Border Cats were able to hold off the Beetles in the bottom of the ninth to take Thursday's only day game 8-5. Wes Parsons (Jackson State) gave seven innings of work on the mound allowing just three runs and striking out five Alexandria batters.
In Wisconsin Rapids, center fielder Alex Bacon (North Florida) hit a home run for the second night in a row. On Thursday it was a two-run home run to put the Rafters ahead 3-0 in the bottom of the third inning. Bacon, who finished the night going 3-for-5 with two runs scored and two RBI, carried the Rafters. The Rafters won 12-3.
The MoonDogs took down the Willmar Stingers 4-1 Thursday night. The MoonDogs were led by starting pitcher and Northwoods League Pitcher of the Night Ty Taylor (Oklahoma). The Celburne, Texas native threw six innings and allowed no runs on one lone hit. The MoonDogs were also represented by Kyle Turner (Missouri Baptist), who was named Northwoods League Player of the Night. Turner went 3-for-5 with two home runs and a double. Turner also recorded two RBI.
The Eau Claire Express held off the Wisconsin Woodchucks 5-4 in Eau Claire Thursday night. The Express were led by the pitching performance of their starter Jordan Kipper (Central Arizona). Kipper threw 6.2 innings allowing just two runs on five hits and striking out eight.
The Lakeshore Chinooks swept their first series as a part of the Northwoods League, defeating the Green Bay Bullfrogs 4-3. Nick Soldano (North Park) got the win for the Chinooks, tossing 7.1 innings allowing just three runs and striking out six.
In Rochester, the Waterloo Bucks beat the Rochester Honkers by a score of 10-4. The Bucks center fielder Benny Roberts (Washington State) led the team by going 2-for-4 with three RBI and two runs scored. The Honkers did get some power, with a home run from Ben Lahn (Lamar CC).
The Madison Mallards defeated the 2011 Northwoods League Champion Battle Creek Bombers 7-1. The Mallards were led at the plate by Jeff Zimmerman (Northern Illinois), who went 3-for-4 with two RBI. The team was led on the mound by starter Matt LaMothe (Georgia College), who threw five innings and allowed just one run and struck out four Bomber batters.
The hometown Huskies were defeated by the St. Cloud Rox in Duluth on Thursday night. The Huskies rallied in the bottom of the ninth on a Michael Suiter (Kansas) two-run home run, but it wasn't enough as the Rox won, 10-9.