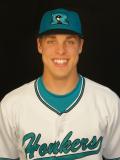 ROCHESTER, Minn. (June 1, 2012) – Mike Lukkason (Dakota Wesleyan), Rochester Honkers shortstop, was named the Northwoods League Player of the Night for Friday, June 1.
Lukkason went 2-for-4 with two runs scored. Lukkason's lone RBI came on his walk-off solo home run in the bottom of the tenth to give the Honkers their first win of 2012. The final score was 4-3.
The Honkers host Thunder Bay again Saturday night at Mayo Field with the first pitch scheduled for 7:05 p.m.