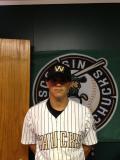 GREEN BAY, Wis. (June 2, 2012) – Wisconsin Woodchucks starting pitcher Luke Moran (Oklahoma State) was named the Northwoods League Pitcher of the Night for Saturday, June 2.
Moran shut down the Green Bay Bullfrogs in six innings of work. The Cypress, Texas native didn't allow any runs and just one hit while striking out eight Green Bay batters. Moran also picked up his first win of the 2012 season.
The Woodchucks and Bullfrogs are back at it Sunday in Green Bay with the first pitch at 1:05 p.m.