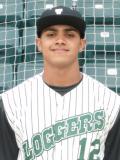 LA CROSSE, Wis. (June 3, 2012) – La Crosse Loggers first baseman Juliene Jones was named the Northwoods League Player of the Night for Sunday, June 3.
Jones was 2-for-4 at the plate for La Crosse. In the bottom of the fourth with the game tied 2-2, Jones belted a two-run home run to break the tie and put the Loggers up for good. Jones finished with three RBI and two runs scored.
The Loggers took the series and will look to continue their current two-game winning streak when they travel to Wausau, Wis. to take on the Wisconsin Woodchucks. First pitch is scheduled for 6:35 p.m.