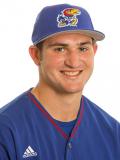 DULUTH, Minn. (June 7, 2012) – Rochester Honkers center fielder Dakota Smith (Kansas) was named the Northwoods League Player of the Night for Thursday, June 7.
Smith was 3-for-5 for the Honkers at the plate with four RBI and two runs scored. Smith knocked in two runs on his two-run double to left center field in the top of the fourth inning to put the Honkers up 5-0.
The Honkers and Huskies will face off in the series finale on Friday in Duluth with the first pitch scheduled for 7:05 p.m.