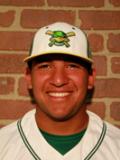 MADISON, Wis. (June 15, 2012) – Madison Mallards Jose Trevino (Oral Roberts) was named the Northwoods League Player of the Night for Friday, June 15.
Trevino was 4-for-5 with five RBI for the Mallards. He also scored four runs for Madison. In the bottom of the ninth inning, Trevino hit a three-run home run to bring the Mallards back within one run. Trevino also hit a two-run home run in the bottom of the sixth inning.
The Mallards will host the Lakeshore Chinooks on Saturday with the first pitch scheduled for 6:35 p.m.