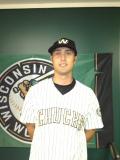 LA CROSSE, Wis. (June 16, 2012) – Wisconsin Woodchucks third baseman Brendon Hayden (Virginia Tech) was named the Northwoods League Player of the Night for Saturday, June 16.
Hayden was 4-for-5 with five RBI and two runs scored for Wisconsin at the dish. The Twin Lakes, Wis. native hit a solo home run in the top of the second to put the Woodchucks up 1-0. After the Loggers regained the lead, Hayden put his team in front again in the top of the fifth with a grand slam.
The Woodchucks and Loggers will finish this series on Sunday at 5:05 p.m.