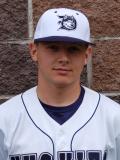 ROCHESTER, Minn. (June 16, 2012) – Duluth Huskies starting pitcher Joey Novak (Harvard) earned the honor of Northwoods League Pitcher of the Night for Saturday, June 16.
Novak was dominant in his start against the Rochester Honkers. He threw six innings, allowed just one run on four hits and struck out 11 Rochester batters. Novak has now improved to 4-0 on the season and has struck out 31 batters in 23 innings pitched.
The Huskies will host the Thunder Bay Border Cats on Sunday with the first pitch scheduled for 5:05 p.m.