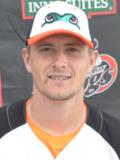 GREEN BAY, Wis. (June 19, 2012) – Green Bay Bullfrogs starting pitcher Bryce Bellin (Minnesota State) earned the honor of Northwoods League Pitcher of the Night for Tuesday, June 19.
Bellin threw seven shutout innings, allowed just two hits and walked just one. He also struck out five Madison batters. Bellin picks up his first victory of the season and has now allowed just one run in 17.1 innings of work this season.
The Bullfrogs defeated the Mallards by a score of 5-0. The Bullfrogs will travel to Madison to face the Mallards at 7:05 p.m. on Wednesday.