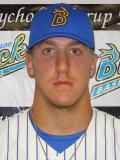 THUNDER BAY, Ontario (June 21, 2012) – Waterloo Bucks starting pitcher Micah Bryan (Charlotte) earned the honor of Northwoods League Pitcher of the Night for Thursday, June 21.
Bryan threw five shutout innings for the Bucks and struck out seven Thunder Bay batters. He also allowed just four hits. His outing was cut short by a rain delay. He improves to 2-1 on the season with a 2.79 Earned Run Average.
The Bucks won, 3-0. The Bucks are scheduled to pay the Border Cats in a double-header on Friday beginning at 6:05 p.m. ET.