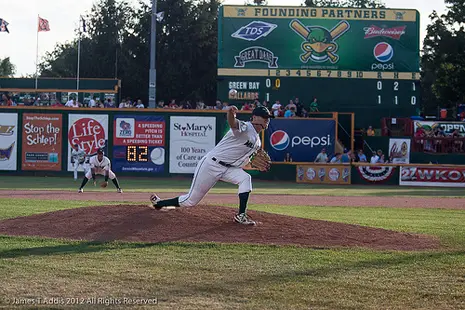 ROCHESTER, Minn. (June 22, 2012) – Saturday brought a complete-game shutout and a seven RBI game to the table. However, the double-header in Duluth was not able to be played.
The Friday, June 22 game will be a double-header for Monday, July 2, 2012 at St. Cloud. The Saturday, June 23rd game will be played in Duluth as a double header on Saturday, July 7, 2012. Due to the fact that the Huskies and Rox must make up two games with only one date to play in Duluth forces the team to play a home game in St Cloud.
Eau Claire 7, Green Bay 1
The Express earned the win on the back of Casey Gillaspie (Wichita State) who went 3-for-4 at the dish with two RBI and three runs scored. Eau Claire will travel to Madison on Sunday for a 3:05 p.m. start. The Bullfrogs have Sunday off.
Rochester 9, Willmar 8
The Honkers were led by the bat of Trevor Podratz (Hawaii) who was 2-for-5 with three RBI and two runs scored. He also recorded his fifth home run of the season. The Honkers have Sunday off while the Stingers will travel to Mankato to face the MoonDogs at 6:05 p.m.
Wisconsin 6, Battle Creek 1
Brandon Cogswell (Virginia) carried the Woodchucks as he had three RBI while going 2-for-3 at the plate and also recording a run scored. These two teams have Sunday off before returning to action on Monday.
Madison 5, Lakeshore 11
The Chinooks were led by the hot bat of Bre Kimbell (Louisiana Tech) who drove in seven runs for Lakeshore. He was 3-for-5 at the plate with a home run and two runs scored. Lakeshore has Sunday off.
Mankato 8, Alexandria 7
In a game that went back-and-forth from the start, the Beetles rallied for two runs in the bottom of the ninth to come up just one run short in the 8-7 victory for Mankato. The Beetles will host the St. Cloud Rox on Sunday at 5:05 p.m.
Wisconsin Rapids 0, La Crosse 3
The Loggers were led by Brandon Bednar (Florida Gulf Coast) who was 3-for-4 with two RBI and a run scored. The Loggers and Rafters have Sunday off.
Waterloo 3, Thunder Bay 2 (Game 1, 7 innings)
The Bucks starting pitcher Derek Lamacchia (Quinnipiac) picked up his second win of the season as he threw five shutout innings and struck out seven Border Cats.
Waterloo 7, Thunder Bay 0 (Game 2, 7 innings)
Waterloo pitching stayed hot as starting pitcher Jake Powers (Missouri State) picked up his second win of the season in a complete-game shutout. Powers threw all seven innings, striking out four and walking none. The Bucks and Border Cats do not play on Sunday.