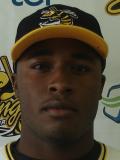 MANKATO, Minn. (June 24, 2012) – Kenny Roberts (Alabama) second baseman earned Northwoods League Player of the Night for Sunday, June 24.
Roberts tallied his fourth and fifth home runs of the season while going 2-for-4 at the dish for the Stingers. Roberts recorded six RBI and two runs scored. Roberts also had three assists in the field.
The Stingers went on to win the game 6-5. Willmar will face Mankato again on Monday at 7:05 p.m.