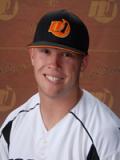 MANKATO, Minn. (June 25, 2012) – Mankato MoonDogs outfielder Craig Massoni (Chabot College) earned Northwoods League Player of the Night for Monday, June 25.
Massoni was 2-for-2 at the plate for the MoonDogs with four RBI and two runs scored. Massoni put his team up by three with a two-run home run in the bottom of the first inning. He would do damage in the again in the fifth inning when he hit his second two-run home run of the day to put Mankato up 6-0.
The MoonDogs went on to win the game 6-1. Willmar will host Mankato on Tuesday at 7:05 p.m.