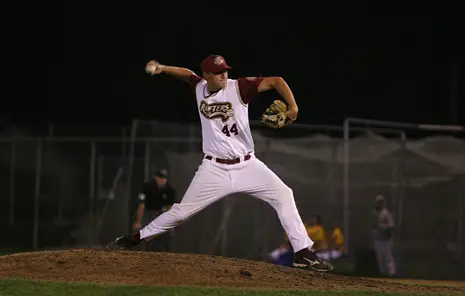 ROCHESTER, Minn. (June 25, 2012) – Monday's action would consist of another player recording a two home run game and at least seven runs scored in six of the eight games around the league.
Willmar 1, Mankato 6
The MoonDogs were led by outfielder Craig Massoni (Chabot College) who was responsible for driving in four of their six runs. Massoni hit two two-run home runs and also drew two walks. This series will shift to Willmar on Tuesday for a 7:05 p.m. start.
Duluth 8, Waterloo 2
The Huskies were led at the dish by Max Duval (Hawaii) who was 3-for-4 with three RBI. Joey Novak (Harvard) also picked another win as a starter to improve his record to 5-0. This series continues on Tuesday with the first pitch scheduled for 6:35 p.m.
Madison 5, Wisconsin 9
Brad McKewon (Creighton) was 2-for-4 for the Woodchucks with two RBI and a run scored in the victory. These two teams will battle again on Tuesday in Madison, Wis. at 7:05 p.m.
Battle Creek 7, Eau Claire 1
Daniel Rockett (Texas-San Antonio) was 2-for-4 at the plate for the Bombers with two RBI and a run scored in the 7-1 win. The two teams will meet again for a 6:35 p.m. start on Tuesday.
Lakeshore 10, La Crosse 8
La Crosse rallied for six runs in the bottom of the eighth, but couldn't add any more after that. Bre Kimbell (Louisiana Tech) led the way again for the Chinooks. He was 3-for-5 at the plate with three RBI. The Loggers and Chinooks will play at 7:05 p.m. on Tuesday
Alexandria 1, Rochester 11
The Honkers were led by the solid starting pitching performance of Jared Miller (Vanderbilt). Miller threw six innings and allowed just one run on one hit while striking out nine. On Tuesday, these two teams will face off again for a 1:05 p.m. start.
Wisconsin Rapids 1, Green Bay 5
The Bullfrogs were led by the pitching of Ben Graff (University of San Francisco) who threw five innings, allowing just one run and striking out eight batters. The teams will play again on Tuesday at 7:05 p.m. in Wisconsin Rapids, Wis.
Thunder Bay 3, St. Cloud 2
Patrick Gallagher (UCLA) was 2-for-3 at the plate for the Border Cats. He also had an RBI and drew a walk. This series continues on Tuesday at 7:05 p.m.