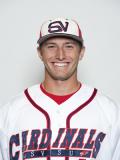 LA CROSSE, Wis. (June 26, 2012) – Lakeshore Chinooks starting pitcher Carson Beauchaine (SVSU) earned the honor of Northwoods League Pitcher of the Night for Tuesday, June 26.
Beauchaine threw five shutout innings for the Chinooks and allowed just one hit. He also allowed just one walk and struck out two La Crosse batters. He improves his record to 2-0 on the 2012 season.
The Chinooks lost the game, 3-2. Lakeshore will face the Loggers again on Wednesday at 7:05 p.m.