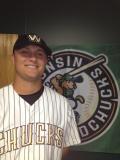 MEQUON, Wis. (July 1, 2012) – Wisconsin Woodchucks starting pitcher J.D. Davis (Cal State Fullerton) earned the honor of Northwoods League Pitcher of the Night for Sunday, July 1.
Davis threw seven strong innings for the Woodchucks as he struck out seven batters and allowed just two walks. Although three runs scored, none of them were earned for Davis. He now moves to 2-0 on the season.
The Woodchucks won the game 6-4. Wisconsin will play the Chinooks again on Monday at 6:35 p.m.