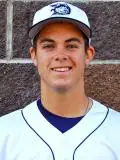 DULUTH, Minn. (July 1, 2012) – Duluth Huskies third baseman Trey Vavra (Madison College) earned Northwoods League Player of the Night for Sunday, July 1.
Vavra was 4-for-5 at the plate for the Huskies with three RBI and two runs scored. His biggest hit came in the bottom of the ninth with the Huskies trailing by one and two runners on base. Vavra doubled home both runs to win the game for Duluth, 6-5.
The Huskies will travel to St. Cloud for a double-header on Monday, with game one beginning at 6:05 p.m.