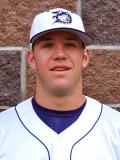 DULUTH, Minn. (July 2, 2012) – Duluth Huskies left fielder Luke Campbell (New Mexico) earned Northwoods League Player of the Night for Monday, July 2.
Campbell was 4-for-5 at the plate for the Huskies with four doubles. Campbell now has 12 doubles on the season. He also recorded three RBI and three runs scored for Duluth on Monday.
The Huskies won the game 14-4. St. Cloud will host Duluth again on Tuesday for a 7:05 p.m. game.