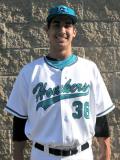 THUNDER BAY, Ontario (July 2, 2012) – Rochester Honkers starting pitcher Jared Miller (Vanderbilt) earned the honor of Northwoods League Pitcher of the Night for Monday, July 2.
Miller threw seven innings for Rochester and allowed just one run on five hits. He also struck out eight Border Cats' batters. Miller is now 2-0 on the season with a 1.09 ERA.
The Honkers won the game 3-2. Thunder Bay will host Rochester again on Tuesday at 7:05 p.m. ET.